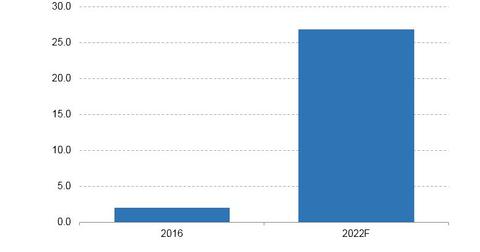 Why Samsung Is Ramping Up Its Virtual Reality Campaign
By Ruchi Gupta

Updated
Samsung launches HMD Odyssey for Windows
According to Zion Market Research, global sales of VR (virtual reality) systems—hardware and software—will reach $26.9 billion by 2022, up from a little over $2.0 billion in 2016. Samsung (SSNLF) is expanding its portfolio of VR devices to capitalize on this massive revenue opportunity.
At Microsoft's (MSFT) Windows Mixed Reality media event in San Francisco in early October, Samsung unveiled the HMD Odyssey, a VR headset powered by Windows. The HMD Odyssey is priced at $499 and iss scheduled to start shipping on November 6.
Article continues below advertisement
Samsung unveils the 360 Round camera
Only a few weeks after introducing the HMD Odyssey, Samsung launched the 360 Round, a high-end camera that can be used to shoot high-quality 3D videos for VR platforms. The 360 Round starts at $10,500. At this price point, Samsung's 360 Round will compete for the attention of professional VR content producers against GoPro's (GPRO) Odyssey, which is priced a little higher at $15,000.
Nokia (NOK) also sells a high-end virtual reality camera, the Ozo, which starts at $45,000 and is aimed at professionals. However, Nokia plans to scrap the Ozo due to slower-than-expected development of the VR market.
Samsung joins Acer in developing for Windows
In addition to the HMD Odyssey and 360 Round, Samsung's portfolio of VR hardware also includes the Gear VR. With these products, Samsung hopes to increase its exposure to the potentially lucrative VR market as it looks for new opportunities to grow revenue.
For Microsoft, Samsung's Windows-based HMD Odyssey could be a big boost to its mixed reality program. Mixed reality is Microsoft's term for VR and AR (augmented reality) technology. With HMD Odyssey, Samsung joins Microsoft's mixed reality partners Acer, Dell, HP (HPQ), and Lenovo Group (LNVGY). For the Windows mixed reality platform, Dell has Dell Visor, while Lenovo has Lenovo Explorer.