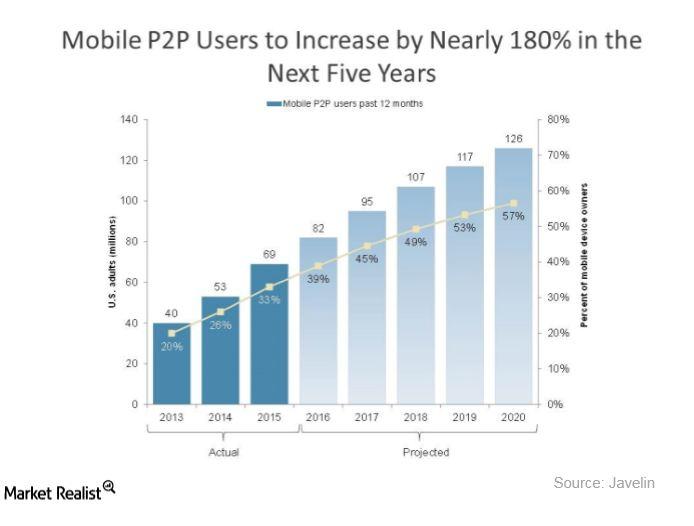 Why Facebook's Payment Appetite Is Understandable
By Ruchi Gupta

Dec. 4 2020, Updated 10:52 a.m. ET
Facebook isn't new to the payments business
A recent Australian patent award shows that Facebook (FB) has more interest in a digital payment service business. Australia rewarded the company a patent for a P2P (peer-to-peer) money transfer service tied to its Messenger app.
Facebook is not new to digital or mobile payments business. In 2Q17, for instance, the company reported $157.0 million in revenue from payments related operations. It posted payments revenue of about $197.0 million per year previously. Facebook generates payments revenue through supporting transactions for video game publishers such as Zynga (ZNGA).
PayPal (PYPL) is currently one of Facebook's payment partners, having helped launch an in-app payment service for Messenger and Facebook in 2016.
Article continues below advertisement
Surging consumer interest in digital payments
Such Facebook actions—partnering with PayPal and patenting a P2P idea in Australia—seem to go beyond an attempt to diversify revenue streams. The company appears to view digital payments as an opportunity to unlock more revenue growth.
According to research firm Javelin, mobile money transfer usage will explode over the next few years and surpass 126.0 million by 2020.
Research firm eMarketer has an even more bullish outlook of the mobile payments market, projecting that US (SPY) mobile P2P transactions will grow to $92.1 billion this year, up from about $59.4 billion in 2016. It also predicts that about one-third of US adult smartphone owners will likely be using mobile P2P payments services by 2018.
Digital payments as revenue opportunity
These mobile P2P payment growth projections are exciting and could drive gains for Facebook in several ways. By simply integrating payments into its Messenger and Facebook apps, Facebook could boost user engagement on those platforms and, in turn, attract more advertising spending.
If the company builds a vibrant payments service, Facebook could generate more meaningful payment revenues to drive its topline growth. Notably, Apple (AAPL) and Snap (SNAP) are among the other tech companies eager to tap the mobile P2P payment opportunity.