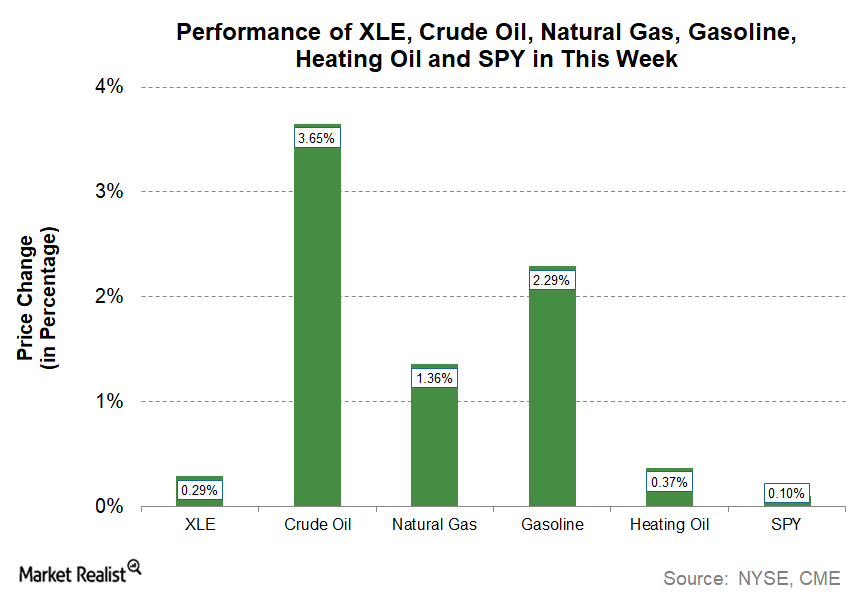 Why Crude Oil Is Leading the Energy Sector This Week
Crude oil leading the rise
This week (beginning October 9, 2017), crude oil (USO) (USL) prices have been leading the rise in energy commodities. Crude oil prices have risen from last week's close of $49.29 per barrel on October 6 to $51.09 per barrel on October 10—an increase of almost 4% so far.
Crude oil found support on its 50-day moving average and moved up on first two days of this week. The majority of the gains for crude oil came on Tuesday, when oil rose ~3%.
Another energy commodity following crude oil on the upside is natural gas (UNG) (BOIL). As of October 10, 2017, natural gas prices have risen ~1.4% or from last week's close of $2.86 per MMBtu (million British thermal units) to $2.90 per MMBtu by Tuesday.
Unleaded gasoline (UGA) prices are also rising this week, after two weeks of decline. Unleaded gasoline prices rose from last week's close of $1.559 per gallon on October 6 to $1.594 per gallon on October 10—a ~2.3% rise.
Last Friday, gasoline prices fell below their 50-day and 200-day moving averages. However, gasoline's 50-day moving average stands above its 200-day moving average, which is a positive technical posture for gasoline prices. Gasoline and heating oil prices impact refining companies (CRAK).
Heating oil has risen a marginal 0.37% so far this week. On October 10, heating oil closed at $1.75 per gallon.
Article continues below advertisement
Energy equities
With the robust performance from natural gas and crude oil, the energy sector has been rising overall this week. As of October 10, the Energy Select Sector SPDR Fund (XLE)—which represents an index of stocks across the energy sector—has risen 0.29%.
XLE is marginally outperforming the SPDR S&P 500 ETF (SPY) this week. As of Tuesday, October 10, SPY has risen 0.10%.
In this series
Now that we've analyzed the performance of the broader energy sector so far this week, in the subsequent parts of this series, we'll look at the performance of energy subsectors, tracking the biggest gainers and losers in upstream and oilfield services. We'll also analyze the latest news and developments behind recent moves.
We'll start with the biggest gainers in upstream this week.