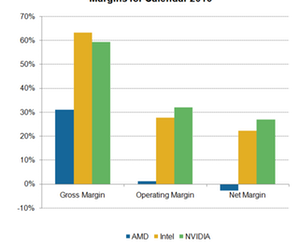 Why AMD Is Targeting the PC, Server Processor, and Gaming Markets
By Puja Tayal

Updated
AMD's end objective behind new product launches
In the previous part of this series, we saw that Advanced Micro Devices (AMD) had launched a whole suite of competitive CPU (central processing unit) and GPU (graphics processing unit) products for the PC, gaming, and data center markets. 
AMD is targeting the PC and traditional server market as competitor Intel (INTC) is moving away from those markets. AMD is looking to capture market share with its competitive products.
At the Deutsche Bank Technology Conference, AMD's CFO, Devinder Kumar, explained that the company is targeting established markets where it has very low or no market share. For instance, it has practically no market share in the server CPU market. 
Article continues below advertisement
AMD is not attacking a new market or a new technology like AI (artificial intelligence) or automotive, which requires significant R&D (research and development) spending, and the company does not have those resources. At present, the company is looking to recover from years of losses by targeting markets where it can boost growth in the short and medium term.
Gross margin
Kumar stated that AMD is coming from a background of 28% gross margin in 2015. It gradually increased this margin to 31% in 2016 and plans to increase it to 34% in 2017, 36% in 2018, and 40% in 2020. AMD plans to improve its margin by entering the premium product market and capturing market share.
AMD's long-term gross margin target of 40% is well below Intel's and NVIDIA's (NVDA) current gross margins of 63% and 59%, respectively. AMD has a long way to go before it can reach its competitors.
While AMD is investing in new products, it is also reducing its operating expense. We'll discuss this topic in the next part of the series.