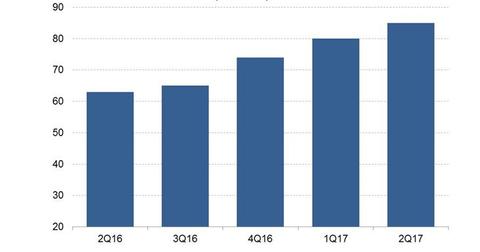 Why Amazon May Want a Retail Deal in Europe
By Neha Gupta

Updated
70% of Prime subscribers live in the United States
Amazon (AMZN) is heading into its 3Q17 earnings season amid speculations that it's considering acquisitions or partnerships in Europe (EFA). Various media reports have linked Amazon to merger and acquisition talks with a number of French retailers, including Carrefour, Casino, and Leclerc.
According to Business Insider citing Morgan Stanley (MS), about 70.0% of Amazon Prime subscribers are in the United States (SPY), implying a poor regional diversification of the crucial loyalty program.
Article continues below advertisement
Growing Prime subscriptions in Europe
Strategic acquisitions or partnerships could help Amazon grow its Prime subscriptions in Europe, potentially leading to more sales and profits in the company's international segment.
The Prime loyalty program presents a high-value customer base for Amazon. Estimates by CIRP (Consumer Intelligence Research Partners) show that Prime subscribers spend nearly twice as much as regular shoppers on Amazon purchases. Amazon also collects a $100 annual fee from Prime subscribers. There were 85.0 million Prime subscribers in the United States at the end of 2Q17, according to CIRP.
Leclerc could be ideal partner to jump-start Prime in Europe
In Europe, Amazon has launched its Prime service in the United Kingdom (EWU), France, Germany (EWG), and Italy. But the service has been slow to gain a foothold in the regions, raising a need for Amazon to try to jump-start it with acquisitions or partnerships in Europe. For example, Leclerc, the leading grocer in France according to Kantar, could be an ideal partner for Amazon to increase its Prime subscription in France.