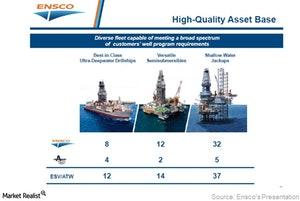 Updates on Ensco's Acquisition of Atwood Oceanics
By Sue Goodridge

Updated
Merger news
The uncertainty hovering around the Ensco-Atwood Oceanics' merger for more than four months has at last come to a halt.
On October 5, 2017, Ensco's (ESV) shareholders approved Atwood Oceanics' all-stock acquisition. Only 65% of the votes cast were "for" the merger. 35% of the votes were against the merger. Many shareholders weren't happy with the price Ensco is paying to Atwood Oceanics. Ensco's management had urged shareholders to vote for the merger and highlighted its many positives.
Article continues below advertisement
Atwood Oceanics' shareholders overwhelmingly approved the merger with 98% of the votes in favor of the merger. Both shareholder votes were sufficient to approve the merger. From the point of view of Atwood Oceanics, this decision is very favorable, and an opposite decision would have hardly hit ATW's stock price. Ensco's management is extremely pleased with the shareholders' decision.
Agreement
According to the agreement, Atwood Oceanics' shareholders will receive 1.6 Ensco shares for each ATW share owned. Ensco and Atwood Oceanics will own 69% and 31%, respectively, of the combined company's outstanding shares. With the completion of the transaction, ATW stock has ceased trading on the New York Stock Exchange.
Peers
Mergers among offshore drillers (OIH) raise hope that consolidation will bring relief to the struggling industry. In August, Transocean (RIG) announced its agreement to acquire Songa Offshore.
During its 2Q17 earnings conference, Diamond Offshore (DO) stated that it's evaluating opportunities to acquire assets or companies. However, DO feels the deal economics don't work for it at current prices. Noble (NE) also feels that it is too soon to consider acquisitions.