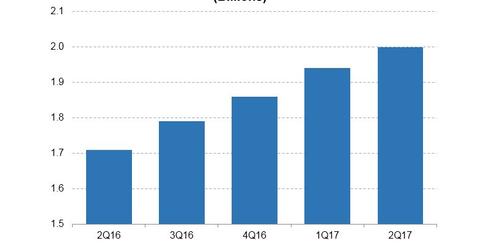 Understanding Google's and Facebook's Internet Access Push
By Ruchi Gupta

Updated
Alphabet flying balloons as Facebook flies drones
Alphabet (GOOGL) and Facebook (FB) are investing in ambitious projects to help spread Internet access to every corner of the world. More than 4.0 billion people could benefit. For Alphabet's Google and Facebook, two companies that rely on advertising for most of their revenue, limited access to the Internet is not good for business.
To expand Internet access to underserved pockets of the world, Alphabet has Project Loon, while Facebook has Aquila. Project Loon involves using specially designed high-flying balloons to provide wireless Internet connection in remote locations. Facebook's Aquila, seeking to achieve a similar goal, is using specialized drones instead of balloons.
Article continues below advertisement
Expanding addressable market
Why are Facebook and Alphabet taking on these expensive and challenging Internet access projects? The answer lies in their appetite for more revenue and profit. For Alphabet, bringing an additional 4.0 billion people online could significantly widen the market for Google's online services. For Facebook, bringing an additional 4.0 billion people to the Internet would enable it to draw more people to its social media platforms. Facebook surpassed 2.0 billion monthly active users of its flagship app in 2Q17.
More data, better ads
Besides expanding the audience, the billions of people coming online could enable Facebook and Google to improve the quality of their advertising services so that they can draw even more advertisers and generate more revenue. Having more people online would give Facebook and Google access to more data, which they could use to deliver more relevant ads and yield more profit. As Facebook and Google continue to face stiff competition from Twitter (TWTR) and the likes of Amazon (AMZN) and Verizon (VZ) in the online advertising industry, they need to find ways to defend their market lead.