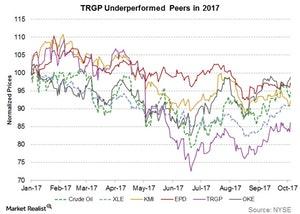 TRGP, KMI, and DCP to Jointly Develop Gulf Coast Pipeline
By Rekha Khandelwal, CFA

Nov. 20 2020, Updated 4:14 p.m. ET
The Gulf Coast Express Pipeline
On October 4, Targa Resources (TRGP) announced a letter of intent with a Kinder Morgan (KMI) subsidiary and DCP Midstream (DCP) for the joint development of the Gulf Coast Express Pipeline project. The project is designed to provide an outlet for increased natural gas production from the Permian Basin to markets along the Texas Gulf Coast. The participation of these three companies is subject to the execution of definitive agreements.
Under the agreements, Targa would own a 25% equity interest in the project. It would also commit significant volumes to the proposed project, including certain volumes provided by Pioneer Natural Resources Company (PXD)—one of the largest producers in the Permian Basin.
Article continues below advertisement
The Gulf Coast Express Pipeline project is expected to have a capacity of ~1.92 billion cubic feet per day. It should serve the processing facilities owned by Targa as well as those owned jointly by Targa and Pioneer Natural Resources. The project is expected to be in service in the second half of 2019.
TRGP's year-to-date performance
As the graph above shows, Targa Resources has underperformed its peers so far in 2017. In May 2017, TRGP raised its 2017 capital spending guidance by nearly 40%. It also offered 17 million shares to the public to partially fund its capital expenditure needs.
Targa completed an offering of 9.2 million shares in January 2017 to partly fund its Outrigger acquisition. The dilution resulting from issuances likely concerned investors.
Analyst recommendations
Of the analysts surveyed by Reuters, ~74% rated Targa Resources as a "buy" and ~26% rated it a "hold." None of the surveyed analysts rated TRGP a "sell." The median target price for TRGP is $52.5. Its shares are currently trading at $48.27. If the company attains this target price within a year, it would mean a 9% price return for investors.
To learn more about Targa Resources, see What's Making Targa Resources So Interesting?