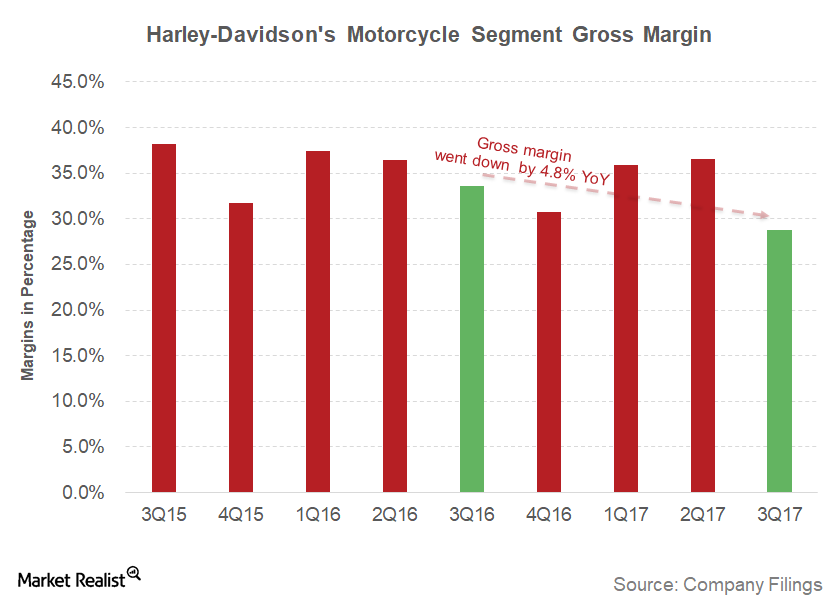 This Is What's Hurting Harley-Davidson's Profitability
By Jitendra Parashar

Oct. 19 2017, Updated 7:42 a.m. ET
HOG's 3Q17 profitability
In 3Q17, Harley-Davidson's (HOG) gross profits from motorcycles and related products stood at $277 million, which was about 24.5% lower than its $367 million gross profit in 3Q16. HOG's gross margin from this segment came in at 28.8%—significantly lower than the 33.6% gross margin it reported one year ago.
Below, we'll explore the key factors that hurt the company's 3Q17 gross margin.
Article continues below advertisement
Lower touring motorcycle sales
Harley-Davidson's negative product mix stole about $26.7 million from its gross profit in 3Q17. HOG's shipments of touring motorcycles fell 37% on a YoY (year-over-year) basis, while its cruiser motorcycle shipments rose 24% YoY. The company reported no notable changes in its Sportster street motorcycles shipments.
In 2Q17, HOG's touring motorcycle shipments rose 13.4%, and the company's management expects touring bike sales to recover in 4Q17.
Touring motorcycles typically yield higher margins for Harley, compared with cruiser and street motorcycles, and so a consistent weakness in touring motorcycles shipments could keep hurting HOG's profitability going forward.
Notably, due to the nature of business and premium product line, Harley's profitability is typically much better than those of other legacy auto companies (XLY), including Ford Motor (F), General Motors (GM), and Toyota Motor (TM).
Other negative factors
In 3Q17, there were several other factors that hurt Harley-Davidson's gross margins. Lower sales volumes and higher manufacturing expenses helped reduce its gross profits, by $49.6 million and 21.7 million, respectively.
Higher prices of raw materials like steel and aluminum acted as headwinds, reducing the gross profit by $3 million.
Continue to the next part for a look at how Harley-Davidson's Financial Services arm performed in 3Q17.