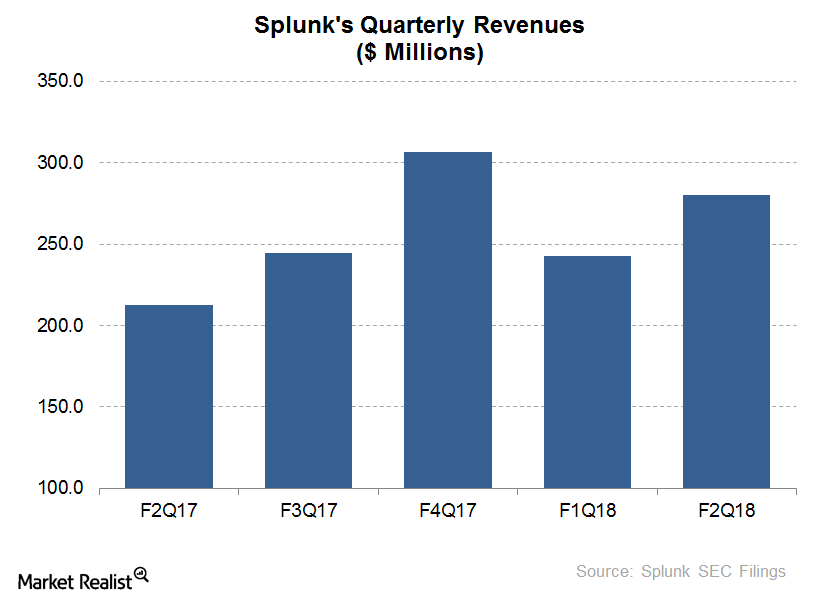 Symantec: What's Impressive about Splunk?
By Ruchi Gupta

Nov. 20 2020, Updated 2:43 p.m. ET
Attractive property for strategic buyer
During a recent interview, Symantec's (SYMC) CEO, Greg Clark, noted that he was open to large M&A (merger and acquisition) deals that make sense. Clark drew several comparisons and mentioned Splunk (SPLK) by name as an attractive property for a strategic buyer. However, Clark did not say whether Splunk could be a strategic fit for Symantec.
In drawing these comparisons, Clark also mentioned Oracle (ORCL). In 2005, Oracle acquired PeopleSoft and used it to enter the application software market, reducing its dependence on the database software market. With the Oracle example, Clark implied that Splunk could dramatically transform the economic fortunes of its buyer.
Article continues below advertisement
Splunk posts 32% top-line growth
Splunk is an application software company based in San Francisco. It serves the big data market and offers an array of solutions, including products that support behavioral analytics. Splunk's products have security applications.
In fiscal 2Q18 (quarter ended July), Splunk posted revenue growth of nearly 32% year-over-year to $280 million, as we can see from the chart above. Revenues for the quarter exceeded consensus estimates by nearly $12 million.
For Symantec, a property like Splunk could fit the bill in a number of ways. Splunk already generates a significant amount of revenue on a consistent basis. Plus, Symantec could leverage Splunk's analytics tools to bolster its security credentials to win more business.
What about Symantec's rivals?
However, Symantec hasn't said it has an appetite for Splunk. Perhaps Clark's comment on Splunk could turn the attention of Symantec rivals such as Cisco Systems (CSCO), IBM (IBM), and FireEye (FEYE) to the business. Cisco and IBM, rattled by weakness in their core industries, are turning to security for revival.