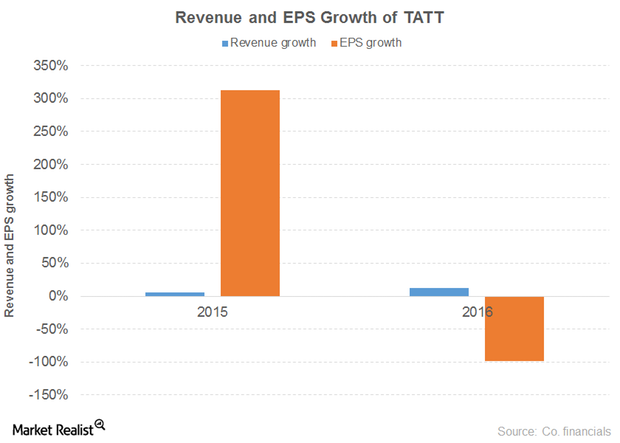 What's behind TAT Technologies' Exceptional Dividend Yield?
By Amanda Lawrence

Oct. 19 2017, Updated 11:36 a.m. ET
Revenue and EPS performance in 2015 and 2016
TAT Technologies (TATT) caters to the commercial and military aviation industries. The company posted 6% revenue growth in 2015 compared to 12% in 2016. Maintenance, repair, and overhaul (or MRO) services for heat transfer components and original equipment manufacturers (or OEM) of heat transfer solutions, MRO services for aviation components, and overhaul and coating of jet engine components drove 2015 growth. The company saw growth in the US, Europe, and other regions in 2015 and 2016 unlike Israel, which fell in 2015 before rising in 2016.
Article continues below advertisement
The company recorded a slump of 16% in its 2015 gross profit before jumping 39% in 2016, which was due to higher costs. However, the operating income after 47% growth in 2015 dropped 26% in 2016. The 2015 performance was due to the acquisition of Chromalloy Israel, which helped offset the impact of slightly higher operating expenses. This was in contrast to 2016, which saw higher operating expenses. The company has also succeeded in bringing down its financial expenses. These factors translated into 313% EPS growth in 2015, which was further enhanced by share buybacks. The company's 2016 EPS dropped 98%, which was also affected by an increase in the number of shares outstanding compared to 2015.
Revenue and EPS performance in 1H17
TAT Technologies recorded 14% revenue growth in 1H17, offset by higher costs. The gross profit jumped 27%, which translates into 490% growth in operating income. Lower operating expenses further supported the operating income. However, the company saw higher financial expense during the period. The company noted positive EPS in 1H17 unlike its negative EPS in 1H16. The EPS number was also affected by a relatively higher number of shares outstanding in 1H17.
Dividend yield
TAT Technologies is not a regular dividend payer. The 12% dividend yield has come from growth in dividend per share offset by higher prices. Prices have risen 29.7% on a YTD basis compared to a dividend yield of 2.3% and YTD price gains of 15.7% by the Dow Jones Industrial Average (DJIA-INDEX) (DIA). The S&P 500 (SPX-INDEX) (SPY) has a dividend yield of 2.3% and YTD price gains of 14%. The NASDAQ Composite (COMP-INDEX) (ONEQ) has YTD price gains of 22.7%. TAT Technologies hasn't generated positive free cash flow since 2014. However, the negative free cash flow balance has significantly fallen.