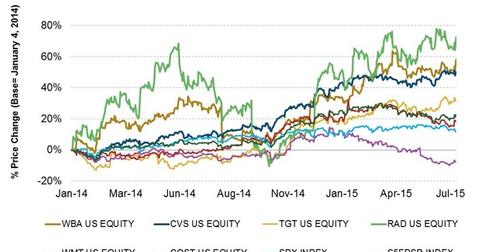 Stock Price and Valuation Trends for Food and Drug Retailers
By Phalguni Soni

Updated
Recent stock price performance for food and drug retailers
The pharmacy sale announcement by Target (TGT) and CVS Health (CVS) resulted in a positive reception by the markets. The stock prices of both companies rose seven sessions in a row, from June 15–June 23. CVS rose 4.6% during this period, while TGT was up by 6.7%.
Target is currently trading at $83.04, rising 4.5% between June 12–July 9. CVS is currently trading at $105.70, up 3.4% over the same period.
Walgreens Boots Alliance (WBA) rose by 5.3% to $89.55. Most of the increase came on July 9, as the company reported upbeat 3Q15 results.
Article continues below advertisement
Total shareholder returns
Target and other major pharmacy chains have outperformed most peers and the overall food and staples retail sector over the past year. Target has provided total returns of 42.5%,[1. Returns computed through July 9] compared with:
39.5% for CVS
26.8% for Walgreens Boots Alliance (WBA)
18.6% for Rite Aid (RAD)
-3.4% for Walmart (WMT)
23.2% for Costco (COST)
18.9% for the S&P 500 Food & Staples Retail Index
Diplomat Pharmacy (DPLO), which had an initial public offering last year, has provided total returns of almost 71% year-to-date in 2015.
Kroger has outperformed its peers, clocking total returns of ~55.1% over the past year. Kroger's stock price has benefited from the company's strong same-store sales and profitability record.
Valuations
Despite Kroger's strong stock price performance, it is still priced at a discount to peers and the overall consumer staples (XLP) sector. Kroger is trading at a price-to-earnings ratio (or PE) of 19.0x forward earnings, compared with 20.0x for the consumer staples (XLP) sector and 19.8x for the S&P 500 Food and Staples Retail Index.
While CVS is in line with the overall industry with 19.8x forward earnings, Target is valued lower at 17.9x forward earnings. That said, CVS' peers in pharmacy retail—Walgreens Boots Alliance, Rite Aid, and Diplomat Pharmacy—are trading at premiums and are valued at forward PEs of 21.3x, 32.6x, and 68.3x, respectively.
Valuations for CVS rose in May, as the company announced its proposed $12.7 billion acquisition of Omnicare. As mentioned earlier, the Omnicare and Target pharmacy purchases may limit CVS' growth options in the near to medium term. Markets may be pricing in a relatively lower multiple for that reason.
For more sector updates and analysis, be sure to visit our Consumer and Retail page.