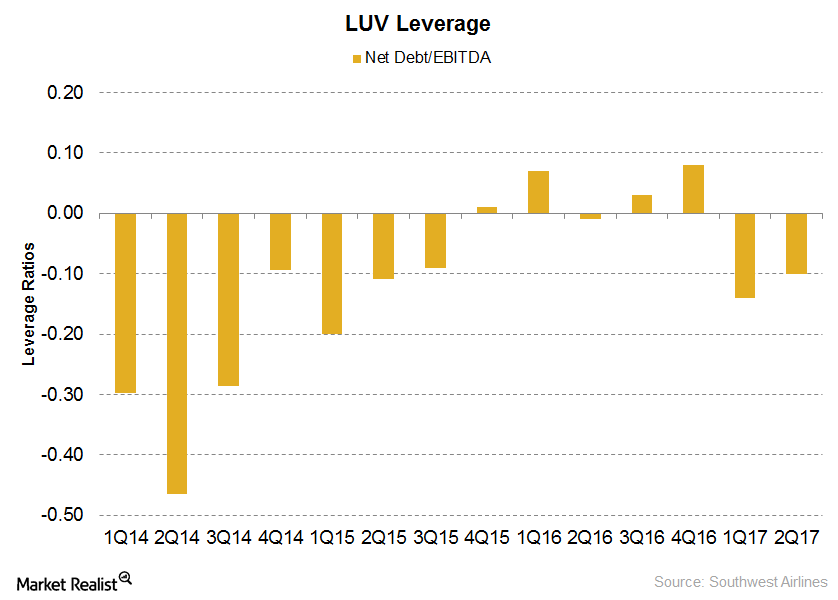 Southwest Airlines Reduces Its Debt Slightly
By Ally Schmidt

Oct. 31 2017, Updated 9:02 a.m. ET
Reduces leverage
In the third quarter of 2017, Southwest Airlines' debt declined slightly to $2.8 billion from $2.9 billion in the second quarter. Its debt had remained stagnant from 4Q16 to 2Q17 at $2.9 billion. LUV's debt had increased to this level from $2.5 billion at the start of 2016.
Despite this increase, Southwest Airlines (LUV) has the lowest leverage among major airlines and was net debt negative (having more cash than debt on balance sheet) at the end of 3Q17. It is the only airline to have more cash than debt at the end of the third quarter.
At the end of 3Q17, American Airlines (AAL) had the highest leverage with a net debt-to-EBITDA ratio of 10.4x, United Continental's (UAL) leverage was 5.3x, and Delta Air Lines'  (DAL) leverage was 2.5x.
Alaska Air Group's (ALK) leverage was 1.7x, Spirit Airlines' (SAVE) leverage was 1.9x, and JetBlue's (JBLU) leverage was 0.30x.
Article continues below advertisement
Cash flows help reduce leverage
For 3Q17, LUV generated $996.0 million in cash flow from operations (or CFO) and $342.0 million in free cash flow. For the first nine months of the year, its CFO totaled $3.4 billion and its free cash was $1.7 billion.
Southwest Airlines ended the quarter with ~$3.0 billion in cash on its balance sheet. These strong cash flows have helped Southwest Airlines reduce its debt over the past seven years.
Reducing leverage means reduced interest cost and strengthening the balance sheet. This has helped Southwest Airlines become the first airline to achieve an investment-grade rating among these airlines
Investors can gain exposure to Southwest Airlines by investing in the PowerShares BuyBack Achievers Portfolio ETF (PKW), which holds 1.5% of its portfolio in the stock. It also holds 1.6% in Delta Air Lines (DAL), 1.1% in American Airlines (AAL), and 0.82% in United Continental (UAL).