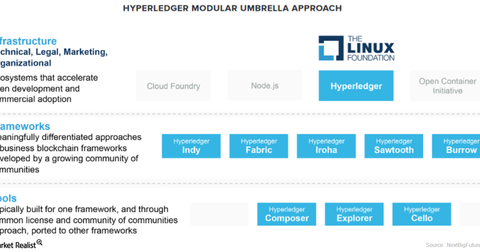 Oracle Is the Latest to Join the Blockchain Party
By Anne Shields

Updated
Oracle Blockchain Cloud platform announced
Earlier in this series, we discussed IBM's (IBM) partnership for blockchain trade finance and other technology players' growing interest in this space. Oracle (ORCL) doesn't want to be the last one to ride the blockchain technology wave.
Last week, Oracle announced Oracle Blockchain Cloud, a platform that is built on top of Hyperledger. Hyperledger, a Linux open source project, is a collective effort to accelerate blockchain technology and is endorsed by leading technology players like IBM, Cisco Systems (CSCO), SAP (SAP), and Intel (INTC).
A majority of blockchains are public, and people with the technological expertise can see the data on them. On the other hand, Hyperledger is private. This feature gives it an edge as businesses use Hyperledger without revealing their proprietary information.
Brian Behlendorf, the executive director of the Hyperledger Project, said, "Oracle's support for Hyperledger Fabric is great to see." He added, "It's one more validation of the market acceptance of what we believe can become a standard platform for enterprise distributed ledger applications."
Article continues below advertisement
Oracle Blockchain Cloud in beta testing
Oracle Blockchain Cloud platform, which is a part of Oracle's cloud platform, is currently in beta testing and is expected to be available in 2018. It is built and designed to provide preassembled tools that enterprises can put to use for supply chain management contracts that require transactions, tracking, and contracts.
According to Amit Zavery, senior vice president at Oracle Cloud, blockchain technology can "fundamentally transform how business is done, making business-to-business interactions more secure, transparent, and efficient." Zavery added that Oracle's blockchain technology could allow customers to share data securely within as well as outside Oracle's cloud ecosystem.