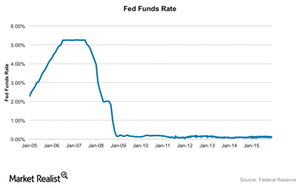 How Markets Will Be Driven by Central Banks' Actions in December
By Rebecca Keats

Nov. 20 2020, Updated 4:45 p.m. ET
Central banks' actions will determine the course of markets in December
December is extremely critical for investors in stock markets around the world. Central banks of the two largest economies in the world are expected to decide on their monetary policies. The US Federal Reserve (or Fed) and the European Central Bank (or ECB) are expected to decide on the path of interest rates in the two regions.
The ECB is expected to drive interest rates in the Eurozone deeper into negative territory while the Fed is expected to raise rates at its December meeting for the first time in nine years. These sharply contrasting policy decisions are a reflection of how the world's largest economies have diverged in their economic policies since the Great Recession. Since the financial crisis of 2007-2009, both the Eurozone and the US have been on a path of monetary easing in order to stimulate the economy.
Article continues below advertisement
Fed and ECB expected to deliver contrasting policies
But now economists are expecting the Fed to deliver its first "liftoff" while the ECB is expected to further expand its bond-buying program and cut deposit rates beyond zero. While the rate cut by the ECB will make the euro cheaper and bring in further investments, the rate hike by the Fed will lead to a strengthening dollar. A stronger dollar against the euro means US exporters would suffer while Eurozone exporters would gain. The dollar is currently close to a 12-year high against the euro and further momentum in the currency complicates the Fed's decision to raise interest rates.
An increase in interest rates directly affects asset sensitive banks (KBE) like Wells Fargo (WFC), Citigroup (C), J.P. Morgan (JPM), and Bank of America (BAC). Read on to understand how financials are affected by higher interest rates. For an in-depth look at the financial sector, visit Market Realist's Financials page.