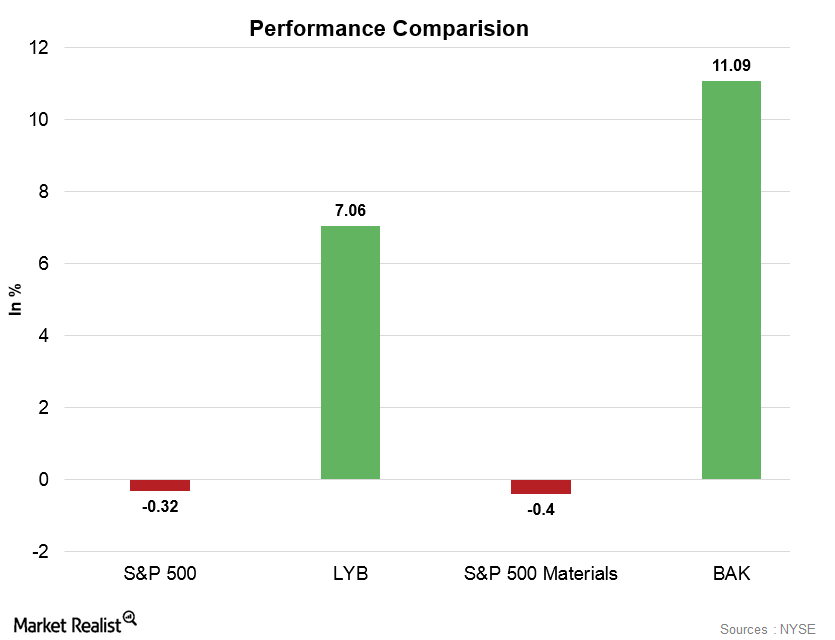 LyondellBasell Industries Rose on October 30
By Val Kensington

Oct. 31 2017, Updated 10:45 a.m. ET
LyondellBasell Industries  
LyondellBasell Industries NV (LYB) is one of the largest plastics, chemicals, and refining companies in the world. It was the S&P 500's second-best performer on October 30. On Monday, LyondellBasell Industries started stronger and rose to the highest levels traded since the end of 2014.
Article continues below advertisement
Takeover speculations
LyondellBasell's prices rose following reports that it approached Brazil's Braskem about a takeover. According to a report from the Wall Street Journal, Braskem's takeover deal by LyondellBasell would be valued over $10 billion. Braskem SA (BAK) is the largest petrochemical company in Latin America. It's a major player in the international petrochemical market. Although the deal is in the early stages and the takeover hasn't been confirmed, analysts think that the deal could help LyondellBasell expand its business in Latin America where Braskem has a strong foothold.
Analysts' upgrades
Amid the takeover speculations, several analysts upgraded LyondellBasell on Monday. Analysts at Deutsche Bank increased LyondellBasell's target price from $98 to $105. UBS increased LyondellBasell's target price to $102 from the previous target price of $96. The stock upgrade boosted LyondellBasell's price on Monday. Amid takeover speculations, Odebrecht released a note addressing investors. Odebrecht will keep its stake in Braskem. Odebrecht is the controlling shareholder of Braskem with a stake of 38.3%.
Amid takeover speculations, LyondellBasell Industries rose 7.1% on Monday and closed the day at $106. LyondellBasell Industries belongs to the S&P 500 materials sector, which fell 0.4% on Monday. Braskem rose 11.1% and closed the day at a fresh record high price levels of $32.56.
In the next part of this series, we'll discuss how CenturyLink (CTL) performed on October 30.