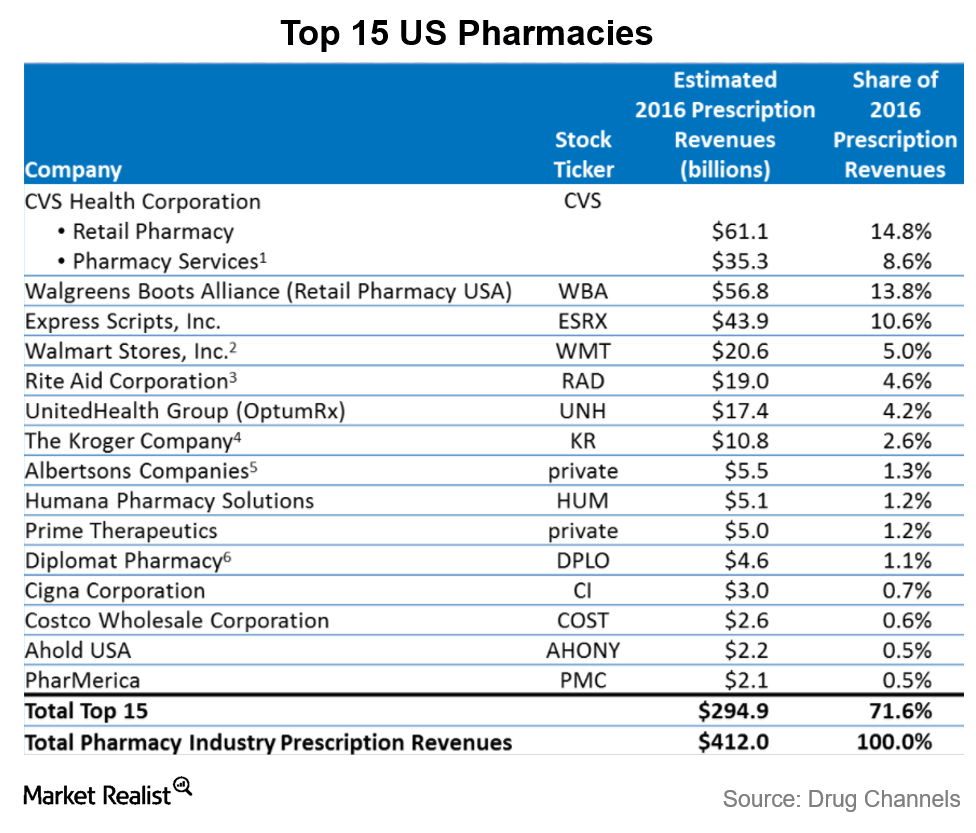 Leerink Partners Convinced about Amazon's Entry in the Pharma Space
By Sonya Bells

Oct. 9 2017, Published 4:25 p.m. ET
Is Amazon gearing up to conquer the pharma market?
Analysts Ana Gupte of Leerink Partners said in a recent client note that Amazon.com (AMZN) might enter the drug distribution market within the next two years. The analyst said that she had reached the conclusion after having calls with MEDACorp PBM and Retail Pharmacy specialists.
Gupte noted that Amazon is "hiring relevant talent and are in active discussions with mid-market PBMs and possibly even with large players such as Prime Therapeutics."
Article continues below advertisement
How might Amazon's move impact pharma companies?
This move could prove a threat for established players CVS Health (CVS) and Walgreens Boots Alliance (WBA), the number one and two players, respectively, in the US drugstore market.
Gupte stated: "AMZN is a meaningful competitive threat to existing players in the drug value chain with its best-in-class mail order fulfillment platform and easy-to-use one-stop shopping Retail Pharmacy experience."
The move could also turn out to be a threat or an opportunity for pharmacy benefit manager Express Scripts (ESRX), depending on the path that Amazon plans to follow. Express Scripts would end up competing directly with Amazon if the latter chooses to enter the market directly, but if Amazon decides to use the acquisition route, Express Scripts would be among the likely buyout targets.
Gupte added: "The entry is poised to be a meaningful competitive threat to standalone PBMs including ESRX, or CVS with Retail Pharmacy and PBM, ranging from margin erosion to full-on business model disruption…though AMZN could choose to buy ESRX and CVS as a much lower probability strategic path to entry. AMZN could also [purchase]…a player such as Change Healthcare for its online claims adjudication and a player such as Avella for Specialty Pharmacy."
Express Scripts stock fell 2.6% on Friday, October 6, while Walgreens and CVS each lost 4.9%.