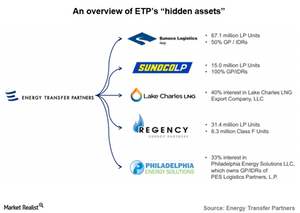 Energy Transfer Partners' subsidiary interests are hidden gems
By Manas Chowgule, CFA

Oct. 11 2020, Updated 12:15 p.m. ET
Good news
Before we conclude this series analyzing the merits of Energy Transfer Partners (ETP) as a solid addition to your energy or income portfolio, there's a little more that deserves a mention.
If you were already sold on the idea, you'll like what this part of the series has to say.
Article continues below advertisement
Energy Transfer Partners' "hidden gems"
Energy Transfer Partners, apart from having significant midstream operations of its own, also owns interests in several other MLPs (or master limited partnerships).
As you can see in the image above, it owns ~67 million limited partner (or LP) units and 50% general partner units (or GP) and incentive distribution rights (or IDR) of Sunoco Logistics Partners (SXL).
It owns 15 million LP units and all of Sunoco LP's (SUN) GP and IDRs.
It has a 40% interest in the Lake Charles LNG export project—which can be quite promising, given low natural gas prices in the US and the kind of favor that US LNG projects have found among investors and LNG buyers, relative to similar projects elsewhere.
The company also owns 31.4 million LP units and 6.3 million Class F units of Regency Energy Partners (RGP). Class F units have similar rights to LP units, but they won't receive distributions for a couple of years, after which they convert to LP units.
Finally, ETP also has a 33% interest in Philadelphia Energy Solutions, which in turn controls PES Logistics Partners' GP.
Why are these interests "hidden gems"?
The reason these interests matter is that Energy Transfer Partners considers these "additional levers to drive incremental value, which are not reflected in its current unit price." ETP believes "significant value is embedded" within Energy Transfer Partners' subsidiary interests in these companies.
Energy Transfer Partners recently put its money where its mouth is when it announced an $18 billion merger with Regency Energy Partners on 26 January. RGP was down ~30% from its August 2014 peak before the deal was announced.
Indeed, the deal is typical of ETP's billionaire Chairman and CEO, Kelcy Warren. His deals have done well for the company in the past.
Keep an eye on MarketRealist.com for our take on the deal.
ETP and RGP are components of the Alerian MLP ETF (AMLP), accounting for ~8% and ~4.6% of the fund's holdings, respectively.