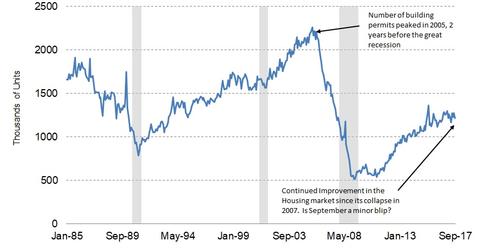 Is the Fall in Building Permits a Reason to Worry?
By Ricky Cove

Updated
Building permits fell in September
The Conference Board Leading Economic Index (or LEI) uses the number of building permits issued as one of its constituents. In the United States, many jobs are generated by the construction industry. The number of building permits issued is a clear sign of future demand for the sector and its workers.
The time between actual construction and the issuing of the permit makes this metric a credible leading indicator for the industry and the economy. Before the housing market decline of 2007, building permits peaked in 2005. The housing market has been on an improving trend since 2011, and rebuilding efforts after the recent hurricanes are likely to increase the number of permits in the next few months.
Recent building permits data
In September 2017, the number of building permits issued decreased from a revised figure of 1.27 billion in August to 1.22 billion. The fall in September could be considered a minor dip before the numbers rise again in October as new permits are applied for to reconstruct houses in Texas and Florida.
The weight of building permit data on the Conference Board LEI is 0.03. Building permits data, because of the fall in September, had a net negative impact on the Conference Board LEI. About 14.0% of the fall in LEI is attributed to the fall in housing permits.
Market impact
In the US markets (SPY), the iShares US Home Construction (ITB) is one of the major funds operating in this sector. The other key ETFs in this space include the SPDR S&P Homebuilders ETF (XHB) and the Power Shares Dynamic Building & Construction Fund (PKB). Although there has been a lull in the industry after the two hurricanes, activity is expected to pick up in the coming months.
In the next part of this series, we'll analyze how the strong momentum of the equity markets (QQQ) is impacting the leading economic index.