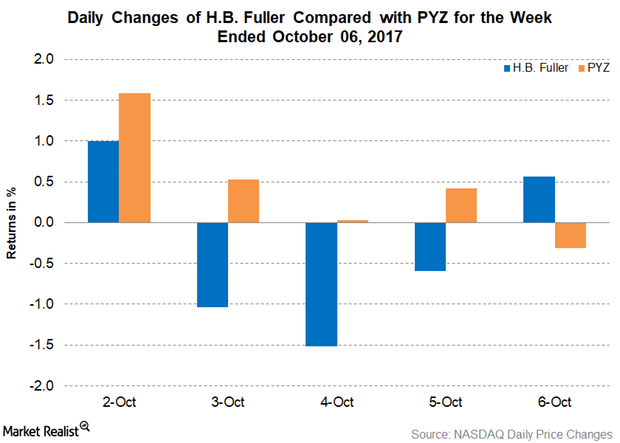 H.B. Fuller Inducts Ruth Kimmelshue to Its Board of Directors
H.B. Fuller announces new board of director
On October 4, 2017, H.B. Fuller (FUL) announced that Ruth Kimmelshue had been appointed to the company's board of directors, effective immediately. Kimmelshue's expertise in supply chain management could help FUL going forward.
Ruth Kimmelshue is Cargill's corporate senior vice president of the Business Operations and Supply Chain division and is a member of the executive team. She has held several positions in Cargill.
Article continues below advertisement
H.B. Fuller stock performance
H.B. Fuller stock fell 1.6% and closed at $57.13 in the week ended October 6, 2017, underperforming the PowerShares DWA Basic Materials Momentum Portfolio (PYZ), which returned 2.6% during the same period.
Despite the fall in FUL's stock price, the stock still traded 9.4% above its 100-day moving average price of $52.23, indicating an upward trend in the stock. On a YTD (year-to-date) basis, the stock has returned 18.3%.
But analysts still see an upside in the stock, with a target price of $60.50 over the next 12 months, implying a return potential of 5.9% over its closing price on October 6, 2017. FUL's RSI (relative strength index) level of 65 indicates that the stock is neither overbought nor oversold.
PYZ has 1.6% of its holdings in FUL. PYZ also provides exposure to stocks like Chemours (CC), FMC (FMC), and LyondellBasell (LYB), which had weights of 5.7%, 5.0%, and 4.8%, respectively, in the portfolio on October 6, 2017.