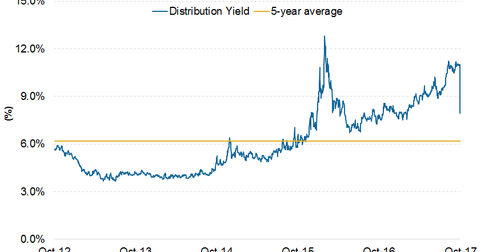 Why Did Genesis Energy Announce a Distribution Cut?
By Kurt Gallon

Updated
High distribution yield
The distribution cut might have shocked Genesis Energy's (GEL) investors, but it shouldn't have come as a surprise. Investors should have seen it coming due to its high distribution yield, high leverage, and recent preferential share issuance to fund the Alkali Business. Let's start with the distribution yield.
Genesis Energy was trading at a high distribution yield of 11.0% before the cut announcement. Genesis Energy's high distribution yield despite its strong distribution growth was due to volatility in earnings and high leverage.
Article continues below advertisement
A high distribution yield implies a high cost of equity capital. Such a high yield wasn't sustainable in the long run, so the cut was inevitable. The partnership is trading at a distribution yield of 8.0%. It's still higher compared to its historical five-year average of 6.2% and that of the Alerian MLP ETF (AMLP) (7.8%). Investors can expect a similar announcement from other high-yielding MLPs. For details on the top ten MLPs that have the highest distribution yield, read These 10 MLPs Offer the Highest Yields.      
High leverage
Genesis Energy's debt has grown steeply in the recent year due to its massive acquisitions and growth capital spending. Its total outstanding debt was ~$3 billion by the end of 2Q17, which translates into a net debt-to-EBITDA multiple of 4.7x. It's above the industry standards.   
Issuance of preference shares
Genesis Energy announced the issuance of an 8.75% Class A convertible preference share worth $750 million to fund a portion of the Alkali Business. It completed the $1,325 billion Alkali Business from Tronox Limited on September 1, 2017. The remaining portion of the transaction was funded from debt. The preference shares and the additional debt were added to the partnership's liabilities amid the challenging energy price environment. Someone had to bear the burden of the deal and it has to be the common unitholders.