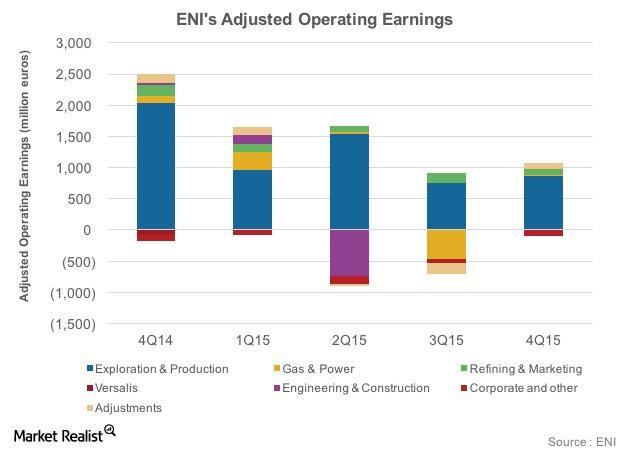 Eni's Segment Dynamics: The Impact of Restructuring
By Maitali Ramkumar

Oct. 11 2020, Updated 12:17 p.m. ET
Eni's segments
Eni (E), an integrated energy major, has three segments: Exploration & Production (or E&P), Gas & Power (or G&P), and Refining & Marketing (or R&M).
Eni has discontinued two of its segments: Versalis and Engineering & Construction (or E&C). Versalis, a wholly owned subsidiary of Eni, is into the chemicals business. Eni is in negotiations with an industrial partner seeking to upgrade its business by acquiring a controlling stake in Versalis. Eni has also sold a 12.5% stake in its subsidiary Saipem, which manages E&C activities. Both segments are now classified as discontinued.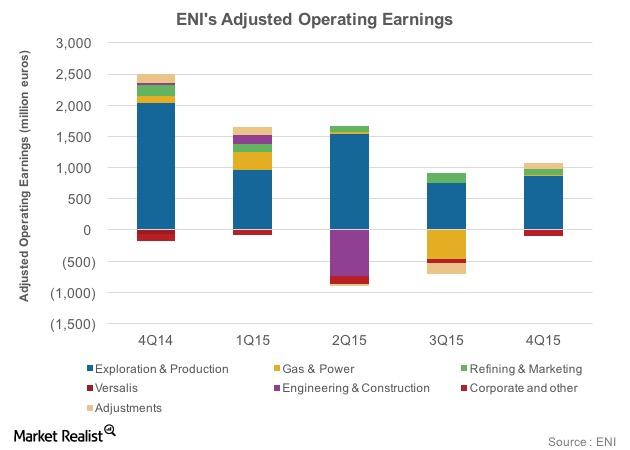 Article continues below advertisement
E&P segment
E&P is the largest segment in terms of earnings contribution. In 4Q14, E&P contributed 2,032 million euros, or 88%, of Eni's adjusted operating income. This fell to 955 million euros, or 61% of operating earnings, in 1Q15. However, falling oil prices led to a further fall in E&P's earnings to 862 million euros. Brent prices, which averaged $76 per barrel in 4Q14, fell to $44 per barrel in 4Q15.
The situation is similar for Eni's peers ExxonMobil (XOM), YPF (YPF), and Statoil (STO), which witnessed steep falls in their upstream earnings in 4Q15. The iShares Russell 1000 Value ETF (IWD) has ~13% exposure to energy sector stocks.
G&P and R&M segments
The G&P segment reported a fall in earnings by 83% compared to 4Q14, to 18 million euros in 4Q15. This was due to falls in natural gas and electricity sales by 5.6% and 2.8%, respectively, compared to 4Q14.
Even the R&M segment's earnings fell by 52% compared to 4Q14, to 93 million euros. This was due to a fall in marketing margins and retail and wholesale volumes, partly offset by a rise in refining margins.
Eni's restructuring exercise, coupled with falling oil prices, has changed segment dynamics within the company. Segments such as E&C, which contributed 10% of earnings in 1Q15, are no longer operational.
Eni's restructuring exercise will likely rejuvenate its R&M and G&P segments to become earnings saviors in the scenario of falling oil prices.