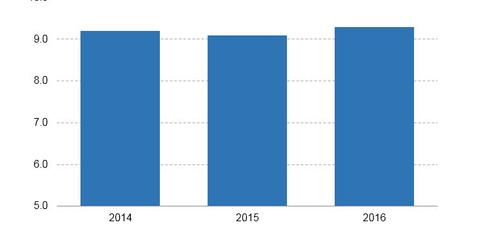 eBay Boosts Buyer Confidence with eBay Authenticate
By Neha Gupta

Updated
eBay Authenticate
eBay (EBAY) recently launched a product verification service, eBay Authenticate, aimed at the luxury handbag market. With the launch, luxury handbag listings from 12 high-end brands qualified for expert verification under eBay Authenticate. The eligible brands include Balenciaga, Burberry, Christian Dior, and Gucci. At the time of the launch, eBay stated that additional brands and product categories would be included in the program next year.
Article continues below advertisement
According to eBay, its authentication service will enable buyers to shop for luxury handbags and wallets with confidence. eBay is so confident of its eBay Authenticate program that it has backed it with a 200% refund guarantee in the unlikely event that a buyer ends up with a luxury handbag that isn't the real deal.
Sellers keep 80% of the selling price
In a post, product executive Vipul Bahety stated that handbags sold through the eBay Authenticate program are verified by industry experts, and the verification is independent of the eligible brands. The eBay Authenticate program is currently open to individual sellers, and the listed handbags must be valued at $500 or more. Sellers receive 80% of the final selling price of their items.
US handbag sales grew 2.0% in 2016
According to business intelligence company Euromonitor International, the US (SPY) handbag market was worth $9.3 billion in 2016, having grown 2.0% over the previous year. Although these figures show that the growth of the handbag market has slowed, there are still billions of dollars to be made in the industry. With the launch of the eBay Authenticate program, eBay could boost its potential in the multibillion-dollar handbag industry.
The eBay Authenticate program could also help eBay combat counterfeit listings. Alibaba (BABA), China's (MCHI) leading e-commerce provider, also struggles with fraudulent products. The company is leveraging technology (QQQ) to support its war on counterfeit goods.