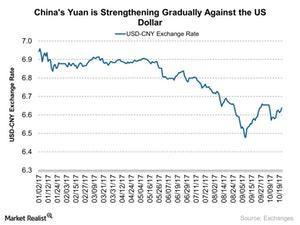 Does a Strengthening Chinese Yuan Indicate a Stable Economy?
Performance of China's yuan
The devaluation of China's currency in late August 2015 has significantly impacted the global economy, spooking the equity markets around the globe (ACWI) (VTI). The fall in exports and domestic demand had a huge impact on the economy. Chinese policymakers artificially depreciated their currency to boost exports and help the economy.
Article continues below advertisement
US dollar
The US dollar has shown some weakness so far this year, mainly due to weaker US economic data and a delay in the implementation of various reforms (SPY) (QQQ).
Recently, China's President Xi Jinping said the country is focusing more on supply-side reforms and shifting its focus to high-quality products and services. In the previous part of this series, we saw how the Chinese economy is going through a transitional phase.
If Chinese consumers continue to focus more on quality-based products and services and if they become more selective about the products they're using, we could see a huge change in this economy. Stronger economic conditions could help its currency gain some strength.
You may also be interested in reading Buffett's Latest Word on Stock Valuations, Holdings, and Taxes.