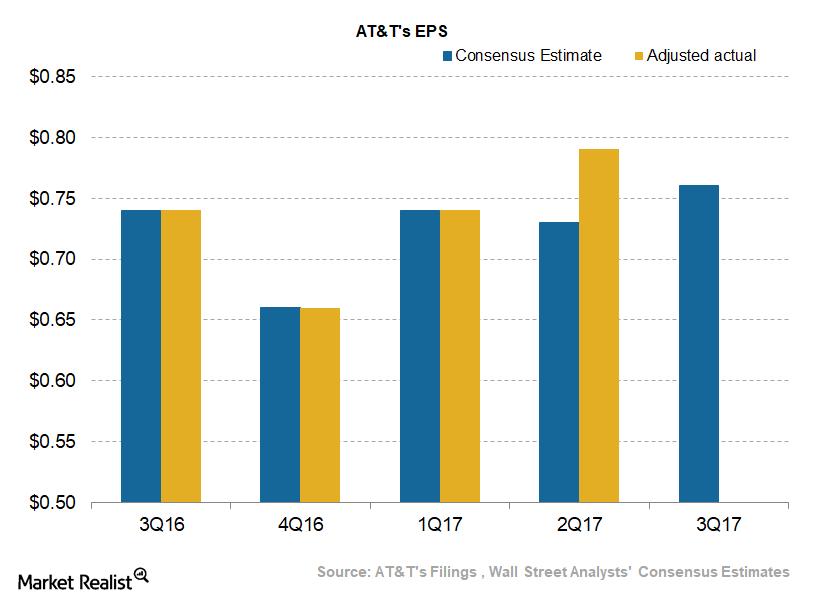 Can AT&T Continue Its Earnings Growth in 3Q17?
AT&T's earnings in 3Q17
AT&T (T) will report its results for 3Q17 on October 24, 2017. In this series, we'll look at analysts' expectations for AT&T for the quarter. Wall Street analysts are expecting the company's earnings to increase in 3Q17. They anticipate adjusted EPS (earnings per share) of ~$0.76 compared to $0.74 in 3Q16.
In 2Q17, AT&T's EPS rose ~9.7% YoY (year-over-year) to $0.79 compared to $0.72 in 2Q16.
Article continues below advertisement
AT&T's consensus versus actual earnings
In 2Q17, AT&T's earnings outperformed analysts' consensus estimate by 8.2%. The company's earnings met analysts' consensus expectations in 1Q17, 4Q16, and 3Q16.
In 2Q17, AT&T gained 2.8 million wireless net customers amid strong competition from T-Mobile (TMUS) and Sprint (S). AT&T increased its gains by expanding its footprint in Mexico and through the growth of connected devices primarily due to the IoT (Internet of Things).
In comparison, Verizon's (VZ) adjusted EPS rose ~2.1% YoY to $0.96 on the exclusion of one-time items.
In the next part, we'll see how much total revenue growth analysts are expecting from AT&T in 3Q17.