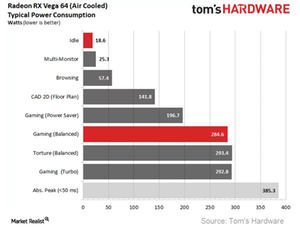 Can AMD's Vega Beat NVIDIA's Pascal in Power Efficiency?
By Puja Tayal

Updated
Power efficiency of AMD's Vega
As there has been a lot of talk about Vega's power efficiency, RTG (Radeon Technologies Group) head Raja Koduri, in a Twitter chat, talked about the company's strategy behind Vega. 
In the chat, Koduri stated that most users prefer performance per dollar over performance per watt. With Vega, Advanced Micro Devices (AMD) is offering performance flexibility to users by launching three separate operational power modes: Power Saver mode, Balanced mode, and Turbo mode.
Turbo mode pushes the GPU to its performance peak while consuming maximum power. However, the Power Saver mode delivers maximum power efficiency without compromising much on performance. The Balance mode is in the middle of the other two nodes.
Koduri stated that in Power Saver mode, the RX Vega 64 delivers 35% more power efficiency while sacrificing performance only 4%. The third-party reviews tested Vega's performance in the Balanced mode. Hence, there is a wide gap in power efficiency.
Article continues below advertisement
Third-party reviews
After testing the Vega 64 in Power Saver mode, the power efficiency gap decreased but did not vanish. NVIDIA's (NVDA) GTX 1080 was still 18% more power efficient and GTX 1080 Ti was 24% more power efficient than the Vega 64. Tom's Hardware measured Vega 64's gaming power consumption in Power Saver mode and found that it consumed 196.7 watts, whereas the GTX 1080 consumed only 173 watts.
NVIDIA can extend its technological advantage over AMD by launching its next-generation Volta GPUs for gaming. The company has already launched Volta GPUs for data center, which deliver significant performance improvement over its Pascal GPUs. Some supply chain rumors suggest that NVIDIA is likely to launch Volta-based GeForce GTX GPUs in early 2018.
Rumor has it
AMD and NVIDIA are always hot on the rumor mill. After the launch of Vega GPU, there was a rumor that NVIDIA would launch GTX 1070 Ti, which would be in the middle of GTX 1070 and 1080 in terms of features and pricing.
There is another rumor that AMD would launch RX Vega 32 and 28, which could replace its Radeon RX 500 series. The Radeon RX 500 series was a refresh to its Polaris-based RX 400 series. The rumor states that these new Vega cards would compete with NVIDIA's GeForce GTX 1060.
However, AMD's Vega is currently facing an even more pressing issue as gamers are not getting access to this card. We will look into this topic in the next part.