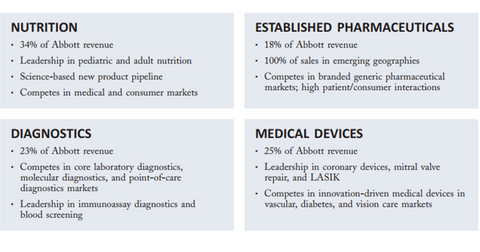 Can Abbott's Latest Approval Accelerate Its Established Pharmaceuticals Business?
By Sarah Collins

Updated
Abbott in IVR and ART
On August 30, 2017, Abbott Laboratories (ABT) announced the regulatory approval for its dydrogesterone oral medication in Russia and the Netherlands for the preparation of the uterus lining in women undergoing IVR (in vitro fertilization) treatment. IVF is a type of ART (assisted reproductive technology) wherein the woman's uterus is implanted with a fertilized embryo. The progesterone hormone is used for luteal-phase support, which prepares the uterus lining for the successful implantation of the fertilized egg.
Article continues below advertisement
Dydrogesterone medicine has been in use for more than 50 years for the treatment of progesterone insufficiency. This extended approval provides women who undergo IVF treatment an oral form of luteal-phase support, thus providing ease of use. Less convenient alternate treatments methods had previously been used.
Dydrogesterone is approved for use in the treatment of luteal-phase support for IVF in Moldova, Russia, and the Netherlands. Notably, Abbott has its established pharmaceuticals business in emerging markets only.
Abbott expects this medication to become the new standard of care for administering the progesterone used in IVF treatments for luteal-phase support. The company plans to pursue the drug's expanded indication across more countries.
Approval based on Lotus I study
The approval of Abbott's dydrogesterone for the treatment of luteal-phase support in IVF is based on the Lotus I study, which was published in Human Reproduction in March 2017. The study included more than 1,000 women at 38 sites around the world, and the results showed the comparable efficacy and tolerability of dydrogesterone with the MVP (micronized vaginal progesterone), which is the current standard of care in progesterone form used in IVF for luteal-phase support. However, MVP is associated with a number of side effects, including poor patient acceptance, discharge, and irritation.
Peer companies offering progesterone medication include Merck (MRK), Abbvie (ABBV), and Allergan (AGN). Notably, the SPDR S&P Dividend ETF (SDY) has ~0.94% of its total holdings in ABT.