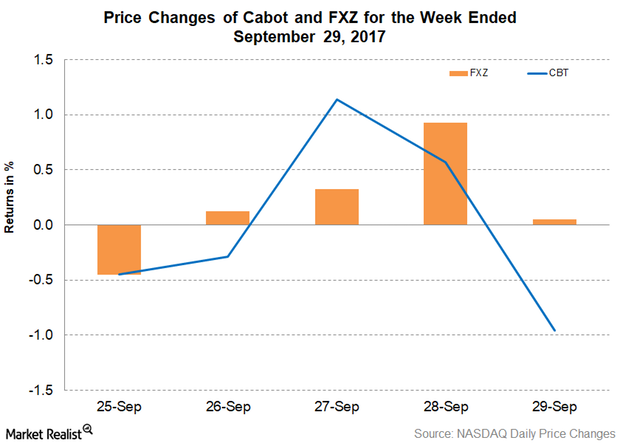 Cabot and Dow in Groundbreaking Ceremony of New Manufacturing Plant
By Peter Neil

Oct. 2 2017, Updated 10:29 a.m. ET
Cabot's new manufacturing plant
Cabot (CBT) on September 29, 2017, celebrated the opening of its new fumed silica manufacturing plant, which is situated adjacent to Dow's Carrollton site in western Kentucky. The celebration was attended by Sean Keohane, president and CEO (chief executive officer) of Cabot, and Howard Ungerleider, CFO (chief financial officer) of DowDuPont (DWDP).
The plan to construct a new facility was announced in May 2017 and is expected to be completed by 2020. This will likely strengthen Cabot as a leading producer of fumed silica. Cabot and DowDuPont have been mutual customers for the past 30 years. Cabot uses silicone products manufactured by DWDP as a building block for producing fumed silica, while DWDP uses CBT's fumed silica in its silicone products.
Article continues below advertisement
According to Dow's website, Keohane stated the following: "This is a great day for Cabot as we expand our presence in North America by building adjacent to our longtime partner Dow in Carrollton. As leaders in our respective industries with a shared commitment to manufacturing and safety, health and environmental excellence, collocation in Carrollton was a natural fit. We look forward to bolstering our partnership, the local economy, and community with our new operation."
Performance of Cabot
Cabot stock remained flat, with no gain or loss, in the week ended September 29, 2017. CBT is now trading 4.9% above its 100-day moving average price of $53.19, indicating an upward trend in the stock. Analysts are expecting a 12-month target price of $60.00, implying a return potential of 7.5% from its closing price on September 29. CBT's 14-day RSI (relative strength index) of 66 indicates that the stock is neither overbought nor oversold.
Notably, investors can indirectly hold Cabot by investing in the First Trust Materials AlphaDEX Fund (FXZ), which had 3.3% of its total portfolio in Cabot. FXZ's other holdings include Westlake Chemical (WLK) and Owens Corning (OC), which had weights of 4.0% and 3.7%, respectively, in the portfolio on September 29.