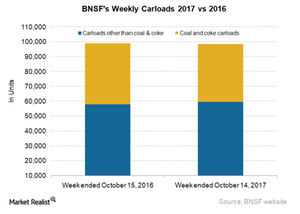 BNSF Railway: A Summary of Freight Traffic in Week 41
By Samuel Prince

Oct. 20 2017, Updated 5:36 p.m. ET
Week 41: BNSF Railway's carloads
In the week ended October 14, 2017, BNSF Railway's (BRK-B) carloads fell 0.6%. The Berkshire Hathaway–owned Class I railroad moved more than 98,000 carloads in that week compared with ~99,000 units moved in the week ended October 15, 2016.
In week 41, the decline in railcar traffic was caused by a 5.8% decline in coal and coke carloads. BNSF Railway's coal and coke carloads declined 2,400 railcars to ~39,000 units in week 41 of 2017. Offsetting the coal slump, the other than coal and coke carloads rose 3.1% to 60,000 units from ~58,000 in the same week last year.
What is noteworthy in the recent week's volume trend of BNSF Railway and competitor Union Pacific (UNP) is the decline in coal volumes. In the first half of 2017, coal volumes were up. Investors should observe the coal carload trends of these two major railroads (XTN) in the US.
Article continues below advertisement
Ups and downs in commodity groups
Intermodal volumes in week 41
In contrast with the change in railcars, BNSF Railway's intermodal volumes jumped 3.5% in the 41st week of 2017. Intermodal traffic grew to more than 104,000 containers and trailers compared with ~101,000 units in the same week in 2016.
BNSF Railway's containers increased to 92,000 in the 41st week of 2017, up 1.8% from ~90,000 in the comparable week in 2016. Trailers reported robust growth of 18% in volumes. From 10,500 trailers, the number moved up to 12,400 units in the reported week of 2017.
In the next part, we'll take stock of Kansas City Southern's (KSU) week 41 volumes.