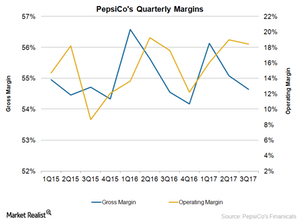 Behind PepsiCo's Operating Margin Expansion in Fiscal 3Q17
Gross margin in 3Q17
PepsiCo's (PEP) gross margin expanded about 10 basis points to 54.6% in fiscal 3Q17, which ended on September 9, 2017. However, its adjusted gross margin contracted 15 basis points. Raw material inflation continues to impact PepsiCo's margins.
Article continues below advertisement
Operating margin expansion
In fiscal 3Q17, PepsiCo's operating margin expanded 80 basis points to 18.4%, and its adjusted operating margin expanded 30 basis points. The improvement was driven by favorable commodity mark-to-market adjustments and lower restructuring and impairment charges on a year-over-year basis. However, currency headwinds continued to adversely impact the company's operating margin.
Looking ahead
PepsiCo continues to expect low-single-digit raw material inflation to impact its profitability. Raw material inflation is expected to result from an increase in the company's basket of commodities and adverse foreign exchange fluctuations. The company continues to expect its adjusted operating margin to expand in fiscal 2017 with the help of its productivity programs.
PepsiCo and nonalcoholic beverage peer Coca-Cola (KO) are under pressure due to continued softness in soda volumes. They're trying to improve their profitability through various productivity measures. Coca-Cola is trying to improve its margins by reducing its exposure to low-margin, capital-intensive bottling operations.
PepsiCo's productivity initiatives include ramping up its investments in manufacturing automation, optimizing its worldwide manufacturing footprint, expanding shared services, and simplifying its organizational structures. Through its productivity programs, it aims to generate $1.0 billion in annual cost savings.
Next, let's take a look at PepsiCo's stock movement.