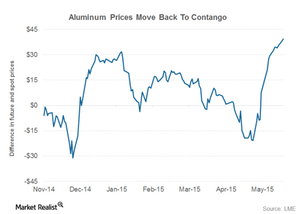 Aluminum Contango Widens as Investors Expect Price Recovery
By Mohit Oberoi, CFA

Oct. 11 2020, Updated 12:15 p.m. ET
Aluminum contango
In the previous part of this series, we discussed the trend in spot aluminum prices. In this part of the series, we'll analyze the movement in aluminum forward prices. The three-month rolling aluminum future was trading at $1,789 per metric ton on May 19.
Article continues below advertisement
Contango widens
The previous chart shows the difference between the three-month aluminum forward and spot aluminum prices. At the start of the year, the three-month aluminum forward contract was trading at $27 per ton, or 1.5% higher over the corresponding spot prices. The difference narrowed in March, and the trend continued in April. Aluminum prices were in backwardation for most of April.
When forward prices are lower in comparison to spot markets, it's described as "backwardation." On the other hand, when future prices are higher than the current spot prices, it's referred to as "contango."
Positive
On May 19, the three-month forward aluminum contract was trading 2.2% higher than the prevailing spot prices. This is the widest difference between aluminum spot and futures prices in the last eight months. A wider contango in commodity prices is generally viewed as a positive sign.
A higher future price could also mean that investors expect aluminum prices to recover in the near future. Aluminum prices are a key driver for primary producers like BHP Billiton (BHP) and Norsk Hydro (NHYDY).
Another factor that drives aluminum prices is the end user demand. Primary aluminum is converted into custom shapes and sizes by fabricators like Kaiser Aluminum (KALU). KALU currently forms 3.5% of the SPDR S&P Metals and Mining ETF (XME). Reliance Steel & Aluminum (RS) forms ~4% of XME's portfolio.
In the next part, we'll analyze how aluminum demand is shaping up.