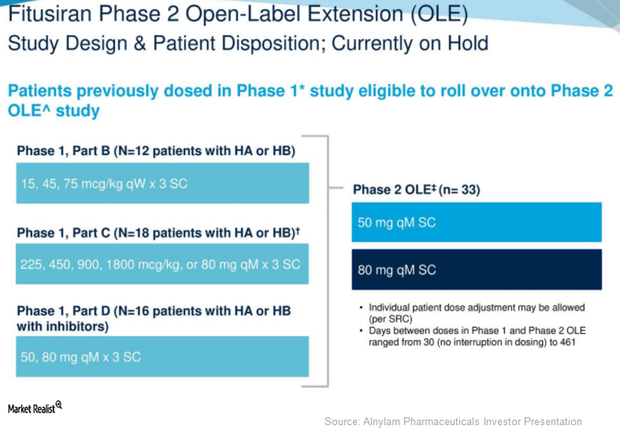 Alnylam Saw Serious Adverse Event in Fitusiran Phase 2 OLE Study
By Margaret Patrick

Nov. 1 2017, Updated 7:33 a.m. ET
Fitusiran phase 2 OLE study
On September 7, 2017, Alnylam Pharmaceuticals (ALNY) announced that it had suspended all of its fitusiran studies after a serious adverse event (or SAE) in the phase two open label extension (or OLE) study where this investigational drug was being evaluated in hemophilia A and B patients with or without inhibitors. The company and its partner Sanofi (SNY) have decided to review this safety event and develop a risk mitigation strategy to prevent such events in the future. The companies will also have to secure the agreement of global regulatory authorities. The companies are ready to make changes in the trial protocol to enhance the patient safety monitoring mechanism.
Currently, Alnylam Pharmaceuticals accounts for about 0.62% of the Vanguard Small-Cap Growth ETF's (VBK) total portfolio holdings.
Article continues below advertisement
The above diagram shows the trial design of the Phase 2 OLE study, which is currently on hold. The SAE, which involved a subarachnoid hemorrhage, unrelated to fitusiran, was initially reported for a patient without inhibitors. However, on further investigation, it was concluded that the patient had suffered from cerebral venous sinus thrombosis. The patient was treated with high doses of FVIII as well as replacement factor therapy for subarachnoid hemorrhage in the week prior to death, which may have also led to the fatal thrombotic event.
Future plans
Alnylam Pharmaceuticals expects to resume the Phase 2 OLE study as well as Phase 3 ATLAS study, which currently has active clinical sites, by the end of 2017. The company, however, is confident of the clinical potential of fitusiran in restoring hemostasis in hemophilia patients. Since the risk of thrombosis is a common side effect reported for multiple existing and investigational hemophilia drugs, fitusiran may manage to secure regulatory approval after the implementation of a robust risk mitigation program. Fitusiran would then enable Alnylam Pharmaceuticals to compete with other hemophilia players such as Bioverativ (BIVV), Novo Nordisk (NVO), and Shire (SHPG).
In the next article, we'll discuss growth prospects of investigational therapy givosiran in greater detail.