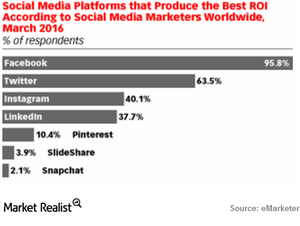 Why Advertisers Are Flocking to Facebook
By Amit Singh

Updated
The Facebook advantage
The biggest advantage of Facebook (FB) over other social media platforms like Twitter (TWTR) and LinkedIn (LNKD) is its monthly active users (or MAUs) of 1.7 billion as of March 31, 2016. These users generate a plethora of information online, thereby helping businesses to target advertisements according to demographics and user interests, which leads to better conversion rates.
According to the eMarketer, a recent survey conducted by Social Fresh, Firebrand Group and Simply Measured stated that "Nearly all social media marketers worldwide believe Facebook produces the best ROI and is essential to social media marketing success."
Article continues below advertisement
How Facebook generates the best ROI for advertisers
Social Fresh, Firebrand Group, and Simply Measured surveyed 551 social media marketers worldwide and 95.8% of them agreed that Facebook produces the best ROI (return on investment). Many brands prefer Facebook for posting videos because its user base is both geographically and demographically diverse compared to other social media platforms such as Twitter and Google+ (GOOG).
Facebook's products and tools enable advertisers to leverage the company's unique combination of reach, relevance, social context, and engagement. The system is designed to help advertisers show people ads that they find interesting and relevant. Facebook continues to invest in improving its ad targeting to increase the relevance of ads.
Investors can consider ETFs to gain portfolio exposure to Facebook. The Technology Select Sector SPDR ETF (XLK) invests 6.7% of its holdings in Facebook.