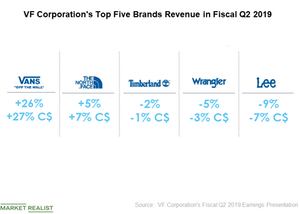 A Closer Look at VFC's Second-Quarter Revenue
By Victoria Dean

Updated
Revenue beats estimates
VF (VFC) reported its second-quarter fiscal 2019 results on October 19. Its revenue of $3.90 billion topped analysts' consensus estimate of $3.87 billion. On a year-over-year basis, revenue was up 15%, driven by acquisitions and higher international and D2C operations.
Acquisitions of Altra, Williamson-Dickie, and Icebreaker added $324 million to the top line. International revenue was up 13%. The D2C business generated 19% revenue growth with the digital platform, an increase of 48%. Even after exclusion of the acquisitions' impact, second-quarter revenue increased 6%.
Vans revenue was up 26%, while The North Face witnessed growth of 7%. Timberland reported subdued revenue growth in the quarter. In fiscal 2019, Vans is expected to deliver 18% to 19% growth owing to strength seen in all sales channels and regions.
Article continues below advertisement
On a reported basis, the activewear segment revenue rose 19%, while the outdoor category saw revenue growth of 6%. Work segment revenue grew 125% mainly due to acquisitions. However, the jeans business was down 7% in the second quarter. The jeans business has been negatively impacted owing to higher demand for athleisure wear and private denim brands. Also, Sears Holdings' bankruptcy compounded the jeans segment's woes.
Fiscal 2019 outlook
For fiscal 2019, net revenue is projected to be at least $13.70 billion. Earlier, in fiscal 2019, VFC had guided to deliver revenue in the range of $13.60 billion to $13.70 billion.
D2C is expected to witness revenue growth in the range of 12% to 14%. Previously, VFC expected the D2C channel to witness growth in the range of 11.0% to 13.0%. Digital revenue is expected to post growth of over 30.0%. International operations are expected to deliver revenue growth between 12.0% to 13.0%.
For fiscal 2019, the jeans business is now expected to witness revenue decline of 1% to 2% compared to the earlier guidance of unchanged revenue on a year-over-year basis. On the other hand, outdoor, active, and work businesses are estimated to witness robust growth for fiscal 2019.