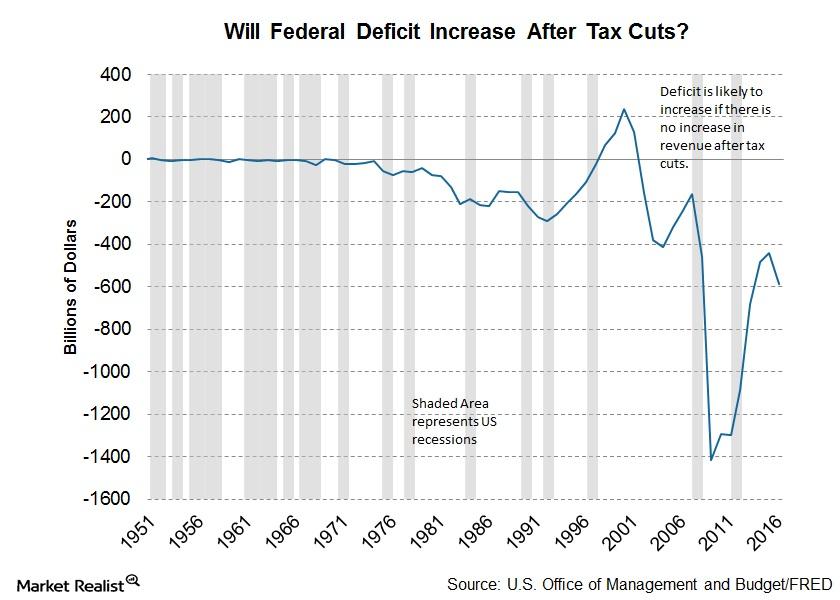 Will a Rising Deficit Impact Tax Cut and Infra Spending Reforms?
Receipts and outlays for the Fed this fiscal year
For this fiscal year, through August, the federal deficit stood at $674 billion. Compared to the previous year, spending is up 3% and receipts have risen 2%. Proposed increases to infrastructure (PKB) spending and cuts to taxes are likely to increase the federal deficit further. Will US senators be concerned? We'll have to wait for that debate to unfold over the coming months.
Article continues below advertisement
How can taxes be cut without raising the deficit?
The Republican Party has long maintained that the revenue loss because of tax cuts will be offset by growth in economic activity. But before this theory is tested, Congress must pass a budget reconciliation. All the departments and committees of the US government will have to agree to budget cuts for any new tax reforms to be made law.
Where will these budget cuts come from? There hasn't been any talk about budget cuts, but there were talks about increasing defense and infrastructure spending. There's likely to be a lot of debate on the issue, and it might not be an easy path to tax reform. The Republican leadership has to deal with its own members and then the Democrats to get this plan rolling.
Will there be an attempt to pass the law this year?
House Speaker Paul Ryan announced the release of a tax reform outline in the last week of September. Then, the House Ways and Means Committee, along with the Senate Finance Committee, plans to work toward producing a bill in a few weeks' time. There could be a lot of drama, like what we saw surrounding the healthcare bill, and reform will likely be an uphill task for the Republicans.
US equity markets (SPY) have rallied in the last ten months on hopes that tax cuts will benefit companies and the overall US economy. Tax reforms could lead to a real Trump rally this time, as the previous rally was mostly driven by corporate performance.
In the next part of this series, we'll analyze the impact of the sudden spike in US inflation (TIP) on the US Fed as well as the bond (BND) and currency (USDU) markets.