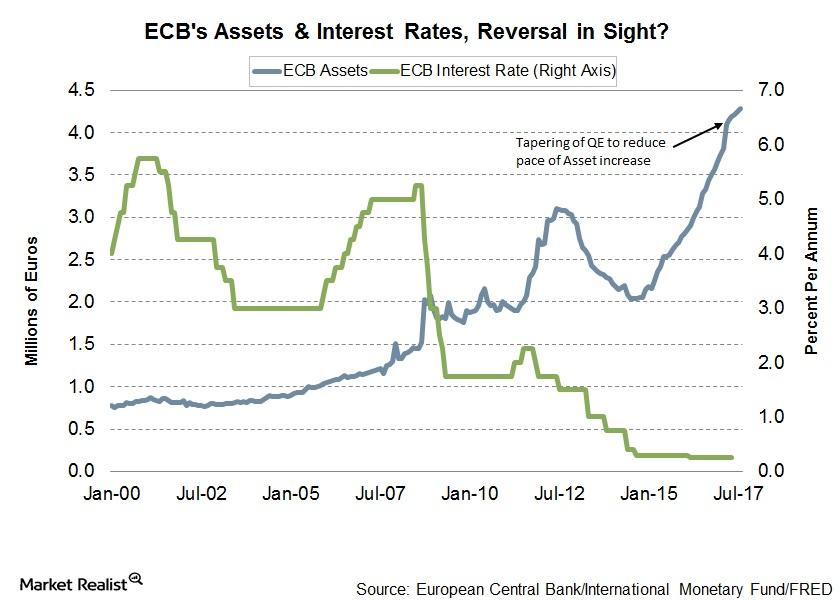 Why Some Are Wondering if the European Central Bank Is Getting Ready for an Exit
Update from the ECB's September meeting
In its September 7 policy meeting, the ECB (European Central Bank) left its policy measures unchanged, leaving interest rates at 0%. The EU's current asset purchase program is confirmed to continue at a monthly pace of 60 billion euros until the end of December 2017.
ECB President Mario Draghi said that the current degree of monetary accommodation is required to support the economic revival of the EU.
Article continues below advertisement
Economic projections at the September 2017 meeting
The key concern for the ECB continues to be inflation growth. The post-meeting statement indicated that the European Central Bank is confident about inflation (TIP) gradually reaching the central bank's goals but the projections for inflation remained subdued. The economic projection for inflation was at 1.5% in 2017, 1.2% for 2018, and 1.5% for 2019.
The outlook for European GDP was revised higher, compared with the June meeting projections. The ECB projects an annual GDP increase of 2.2% in 2017, 1.8% in 2018, and 1.7% in 2019.
Changes to this outlook were strongly influenced by the appreciating euro (EUO) but the central bank downplayed these concerns at this meeting. Exit plans have not been announced at this meeting, but investors are speculating that an announcement of tapering could be made at the October meeting.