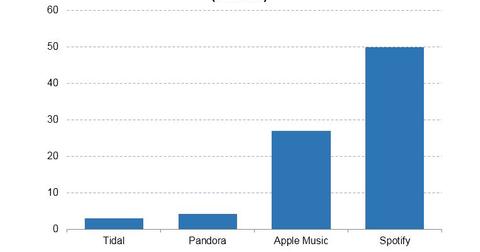 Why eBay Is Fighting to Protect a Trademark
By Neha Gupta

Updated
How close is "eBay" to "NatureBay"?
E-commerce giant eBay (EBAY) is waging a legal battle with a tiny startup rival in Florida over a trademark. According to ABC Action News, eBay has sued the Polk County–based online marketplace NatureBay, claiming that the startup is using an identity that's too similar to its own trademark.
NatureBay is run by Polk County teacher Justin Lewis. The site connects consumers to vendors of local organic options. eBay, perhaps feeling threatened by the organic-focused e-commerce startup rival, is asking that it change its name. According to eBay, the "eBay" and "NatureBay" brands are too close and could confuse customers.
Article continues below advertisement
eBay takes PayPal's route
As the e-commerce scene continues to heat up, incumbents like eBay need to strengthen their brand protection. eBay has picked a trademark fight with a tiny rival while its affiliate PayPal (PYPL) is also embroiled in a trademark dispute with Pandora (P).
PayPal sued Pandora for copying its logo, accusing Pandora of trying to take advantage of its brand success to bolster its struggling streaming music business. As the chart above shows, Pandora is dwarfed by Apple (AAPL) and Spotify in the music streaming market in terms of paying customers.
Appealing to eBay rivals
PayPal split from eBay a few years ago. For a long time, eBay had resisted the pressure to separate PayPal into an independent public company. But factors such as freeing PayPal to do business with eBay's e-commerce rivals persuaded it to split from the payments processor in 2015. PayPal has yet to win an endorsement from Amazon (AMZN)—a major eBay competitor.