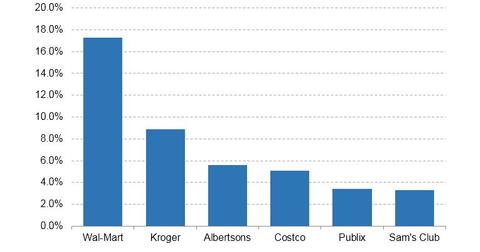 Why Amazon Acquired Whole Foods and Souq
By Ruchi Gupta

Updated
Amazon's M&A strategy
After a string of recent acquisitions, Amazon's (AMZN) growth strategy is starting to draw investor attention. Amazon has for years portrayed itself as a company that prefers to grow organically rather than through acquisitions.
However, Amazon occasionally acquires assets that it deems fit for its strategy. Those purchases have been small—less than $1.0 billion. In June 2017, Amazon broke the ceiling, agreeing to pay $13.7 billion for Whole Foods (WFM).
The dramatic increase in its M&A (merger and acquisition) budget and the rise in the number of deals being completed have left many wondering whether Amazon's M&A strategy has changed. 
Article continues below advertisement
Amazon's strategy
Amazon acknowledges that its recent acquisition moves may raise questions about its M&A strategy, but it insists that the strategy is sound. According to CNBC, Amazon told Citi Research analysts that special interests drove it into recent major M&A deals.
The company cited the quality of the assets and the opportunity to get a few years' head start in certain markets or sectors.
Grocery and the Middle East push
Amazon acquired Whole Foods to help it increase its share of US (SPY) grocery sales. This market has remained in the tight grip of traditional supermarket operators such as Walmart (WMT), Costco (COST), and Kroger (KR), as shown in the chart above.
With Souq.com, for which it paid about $580 million according to various estimates, Amazon has been able to accelerate its launch in the Middle East. Amazon has previously lacked a footprint in the region before the Souq.com deal. The e-commerce industry in the Middle East could grow to $10 billion by 2018 from less than $5.0 billion in 2015.