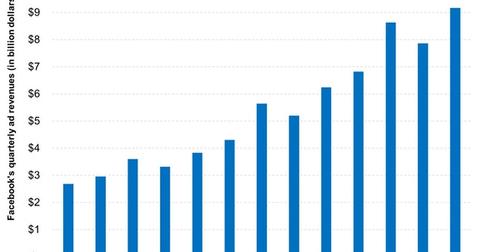 What Facebook's Bid for Indian Premier League Rights Means
By Sanmit Amin

Updated
Facebook bids $600 million for streaming rights
Facebook (FB) is making its intentions very clear. The social-media giant is spending big bucks to win streaming rights for popular sporting events. Facebook turned out to be the second-highest bidder for the rights to stream Indian Premier League (or IPL) cricket tournaments until 2022.
Cricket is big in India (EPI), which has a population of over 1.2 billion people. IPL 10, the most recent edition of the IPL, recorded a whopping 1.3 billion impressions, which represents a 22.5% jump from the previous edition, according to Broadcast Audience Research Council India.
Article continues below advertisement
Facebook's push towards video streaming continues
The tech giant bid $600 million for the five-year deal, but lost to Rupert Murdoch's Star, which coughed up an eye-popping $2.6 billion for IPL's streaming and broadcast rights for the next five years. Star India is owned by 21st Century Fox (FOX).
While Facebook's bid didn't win, the fact that the company is willing to spend big bucks on high-profile sporting events speaks volumes about its push into videos. With over $6.2 billion in its coffers, Facebook can afford to make bids for streaming other high-profile sporting events. As we mentioned in the previous part of this series, Facebook is trying to add more revenue sources.
Twitter (TWTR) and Amazon (AMZN) have had their go at high-profile sports streaming. Twitter hosted a ten-game package to stream NFL (National Football League) matches last year, while Amazon has paid $50 million for a similar package set for this fall.