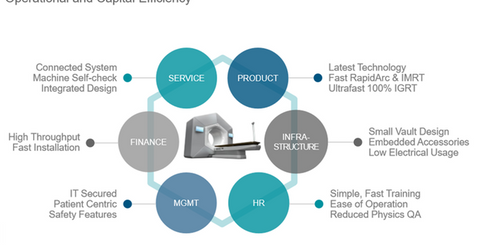 Varian's Halcyon Reaches Milestone Achievements
By Sarah Collins

Nov. 20 2020, Updated 4:49 p.m. ET
Halcyon treatment system
Varian Medical Systems' (VAR) Halcyon system received FDA (Food and Drug Administration) clearance in June 2017 and CE Mark approval earlier this year. Halcyon is the company's new treatment platform for cancer patients that visually enhances and simplifies image-guided radiotherapy treatments (or IMRT). For more detail on the device, read Varian Medical Systems Gets New Product Approval.
After the launch of the device, Varian Medical Systems' gross oncology orders rose around 5%. The system uses treatment planning software Eclipse 15.5, which recently received FDA approval. Varian Medical Systems announced the launch of Eclipse 15.5 on September 8, 2017, which we discussed in the previous article in this series.
Article continues below advertisement
Penn Medicine treats the first patient with Varian's Halcyon system
On September 21, 2017, Varian Medical Systems announced that Penn Medicine in Philadelphia treated the world's first-ever cancer patient with Varian's Halcyon system. The patient suffered from head and neck cancer. The treatment time was reported to be 13 minutes, whereas the estimated treatment using alternative radiation technology would have been around 20 minutes.
Penn Medicine has been working with Varian Medical Systems on the development of the Halcyon system since 2015.
UK's first Halcyon system soon to be installed at Queen's Hospital
The company expects to deliver one Halcyon system to Queen's Hospital in Romford, near London, later in September. It will be the UK's first Halcyon system and the first of the two Halcyon systems to be installed at the hospital.
According to Liz Crees, head of radiotherapy physics at Queen's Hospital, "The arrival of the country's first Halcyon systems is great news for local patients. We are a big cancer center and we see a lot of patients. These new machines are designed to be very patient friendly and allow treatment to be delivered very quickly while also offering state-of-the-art cancer care."
Some of the other major players that compete with Varian Medical Systems in the oncology technology market include Accuray (ARAY), Boston Scientific (BSX), and GE Healthcare (GE). Investors interested in gaining exposure to Varian Medical Systems might consider investing in the iShares Russell Mid-Cap Growth ETF (IWP), which holds around 0.33% of its total holdings in VAR.