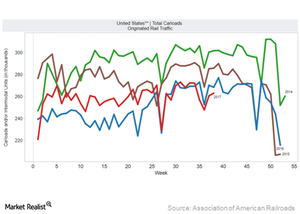 US Rail Freight Volumes for Week 38 Show a Mixed Bag
By Samuel Prince

Updated
US rail freight volumes
The Association of American Railroads published its North American freight data on September 27, 2017, for the 38th week of the year (ended on September 23).
US rail freight volumes were rising YoY (year-over-year) until the third week of August 2017, but Hurricanes Harvey and Irma have disrupted the pace. According to the weekly data, the total rail freight traffic in the US reported a 1.6% rise for the 38th week.
Overall, rail shipments rose to above 548,000 railcars from ~540,000 units in the week ended September 25, 2016. The week-over-week freight volume instability points toward the deep impact of Hurricanes Irma and Harvey.
In 2017, US railcar volumes slumped 2% to more than 263,000 units in the 38th week, compared with ~269,000 railcars in the same week last year. But US railroads' intermodal traffic expanded 5.1%, with volumes jumping to 285,000 containers and trailers from ~271,000 units in the same week of 2016.
Article continues below advertisement
Changes in commodity groups
Five of the ten commodity groups reported YoY rises: nonmetallic minerals (RIO), metallic ores, and metals, and chemicals. Prominent commodity groups with lower YoY volumes in the 38th week included grain, coal (ARLP), and petroleum and petroleum products (UNG).
Other North American volumes
Canadian railroads (CNI) witnessed a marginal rise in railcar volumes last week—up 1.2% YoY to ~81,500 carloads. On the intermodal side, Canadian railroads reported an 18.2% rise to ~73,000 containers and trailers.
But in recent weeks, the YoY change in Mexican (KSU) intermodal traffic has been negative, and the same happened in the 38th week of 2017. Intermodal volumes fell 2.6% to ~13,000 units, and Mexican railcar volumes fell 0.6% to ~16,000 units.
In the next part, we'll take a closer look at Norfolk Southern's (NSC) shipments.