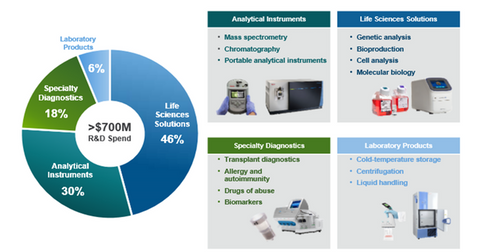 TMO's DNA Detection Kit Approved for FBI Use
By Sarah Collins

Updated
Overview
Thermo Fisher Scientific's Applied Biosystems DNA Kit (or Yfiler Plus PCR Amplification Kit) generates a CODIS (Combined DNA Index System) database. On September 21, 2017, the FBI approved the uploading of genetic profiles to the CODIS database by forensic laboratories to help solve crimes, particularly sexual assault cases, as the system helps detect Y chromosome markers.
These kinds of events often trigger price changes in the company's stock, and the iShares Russell 1000 Value ETF (IWD) can also undergo price changes. TMO accounts for ~0.34% of IWD's total holdings.
Article continues below advertisement
CODIS is managed by the National DNA Index System (or NDIS). The recent approval enables advancement in crime solving for the US forensic community. TMO's Applied Biosystems has been in use for more than 25 years in this field. It's part of the company's Life Sciences business, as the chart above shows. TMO is the only company offering forensic solutions for HID (human identification) testing that designs and validates an HID testing–integrated system consisting of its instruments, reagents, and data analysis software.
Technology real-life application
As per Thermo Fisher Scientific, "Y-STR analysis is also a valuable tool to trace familial relationships among males to help identify missing persons and to assess paternal relationships when the alleged father is not accessible. Last year, the same technology from Thermo Fisher helped law enforcement agencies in Western China and South Los Angeles solve two high-profile rape and murder cases, each of which had gone cold for 30 years. Y-STR analysis identified the two men associated with the violent crimes and resulted in their arrest."