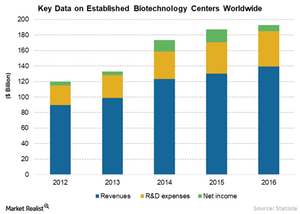 The IBB Biotechnology ETF: The Drugs You Need?
By Peter Barnes

Updated
Fund overview
The iShares NASDAQ Biotechnology ETF (IBB) aims to track the investment results of the NASDAQ Biotechnology Index, which comprises NASDAQ-listed biotechnology and pharmaceutical companies. The fund normally invests at least 90% of its assets in the securities and depository receipts of its benchmark index. It invests the remaining assets in certain futures, options and swap contracts, cash, and cash equivalents, including shares of money market funds.
Article continues below advertisement
About the index
The NASDAQ (COMP) Biotechnology Index, the underlying index of the iShares Nasdaq Biotechnology ETF (IBB), is a modified market capitalization–weighted index that tracks the overall performance of the largest and most liquid US-listed companies. The other eligibility criteria for the index, as determined by index provider NASDAQ, include minimum market capitalization and liquidity requirements. The index is reconstituted annually in December.
Industry overview
With the emergence of biosimilars (BIIB)(GILD) and the increasing application of biotechnology in medical sciences and agriculture, the global biotechnology market offers huge growth potential. According to a report by Grand View Research, the global biotechnology market is expected to reach $727 billion by 2025 from its current size of approximately $415 billion. The emergence of certain key areas—like stem cell technology, cloning, and nanotechnology—are expected to lead market growth. Moreover, the favorable regulatory scenario governing biotechnology research and development and applications could also boost the market.
The United States is the world leader in biopharmaceutical research and development, and it accounts for around a third of the global market. US companies like Amgen (AMGN) and Regeneron (REGN) also hold the majority of intellectual property rights on new medicines.