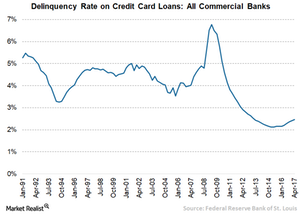 Are Rising Credit Card Delinquencies a Concern?
By Peter Barnes

Sep. 18 2017, Published 11:22 a.m. ET
US banks' trading revenue could fall in 3Q17
US investment banks (XLF) could witness another weak quarter. Their trading revenues could fall 15%–20% year-over-year. In 3Q17, the fixed income and equity trading revenues for Citigroup (C) and Bank of America Merrill Lynch (BAC) will likely fall ~15% YoY. Meanwhile, JPMorgan Chase (JPM) expects its trading revenues to fall ~20%. Goldman Sachs (GS) said that the environment to boost trading revenues remained challenging. Another weak quarter could delay the recovery in banking sector revenues this year. After a strong first quarter, banks' trading revenues remained subdued in the second quarter.
Article continues below advertisement
Rising credit card delinquencies
Several large US banks and credit card companies, including Capital One Financial (COF), Discover Financial Serviecs (DFS), and JPMorgan Chase, reported a rise in credit card delinquency rates for August—the second consecutive rise after falling for four months. According to New York Fed data, seasonally-adjusted credit card delinquency rates for US banks rose to 2.5% in 2Q17 from 2.20% the previous year.
JPMorgan Chase's credit card delinquencies rose 1.16% in August from 1.15% in July. Capital One reported a delinquency rate of 3.97%—up from 3.8% in July. Discover Financial Services' (DFS) monthly credit card delinquency rate rose to 2.1% in August—compared to 2% in July. While the delinquency rate remains significantly below the levels during the 2008-2009 financial crisis, rising delinquencies could result in higher loan losses for many lenders.