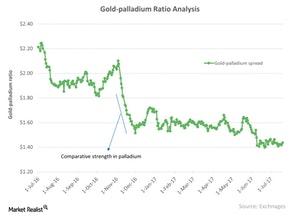 Reading into Palladium Markets Today
By Meera Shawn

Sep. 28 2017, Published 12:10 p.m. ET
Palladium skyrockets
The outlook for palladium looks bright due to the possible rise in demand from the giant Chinese economy. Switzerland witnessed its net exports of palladium rise in August to the highest level since April 2013, and raw palladium exports reached 2,988 kilograms—the second-highest level since July 2014.
Palladium is the precious metal with the highest returns on a YTD (year-to-date) basis, having now risen 33% so far this year. The other three precious metals—gold, silver, and platinum—have been slower. But palladium doesn't always follow the safe-haven sentiment the others follow, moving more independently and coinciding with industrial sentiments. Notably, the ETFS Physical Palladium Shares (PALL) is an alternative for palladium investments.
To many analysts, it appears as if the demand for palladium over platinum in diesel-based car engines has pushed palladium higher. But it's also used as a chemical in electronics and for dental applications.
When analyzing palladium (PALL) markets, it's important to read the gold-palladium spread, which measures the number of palladium ounces it takes to buy an ounce of gold (GLD). The greater the spread, the weaker palladium is compared with gold.
The gold-palladium spread was at ~1.31 on September 25, 2017. The price of gold was $1,307, while the price of palladium was $910.8 that day.
Article continues below advertisement
RSI level
The RSI (relative strength index) level for the gold-palladium spread is now 57. When an RSI level is below 30, there are chances of a rise in the price. When an RSI level rises above 70, it indicates that there might be a drop in the asset's price.
Remember, mining companies like Primero Mining (PPP), New Gold (NGD), Barrick Gold (ABX), and Eldorado Gold (EGO) are all impacted by fluctuations in these precious metals.