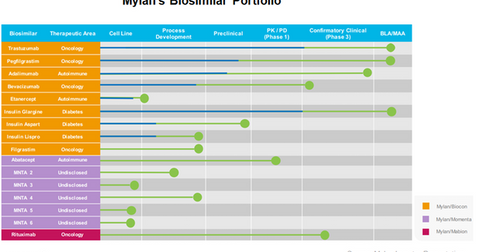 Mylan and Multiple Partnerships to Advance Biosimilar Portfolio
By Margaret Patrick

Updated
Biosimilar submissions
In 2017, Mylan (MYL) has planned to submit BLAs (biologics license applications) to the FDA (U.S. Food & Drug Administration) for the approval of biosimilar trastuzumab, biosimilar pegfilgrastim, biosimilar bevacizumab, biosimilar adalimumab, and insulin glargine. The company has already completed submissions for trastuzumab for the oncology indication in the United States, the European Union, and Canada. Mylan has also completed applications for pegfilgrastim for the oncology indication in the United States, the European Union, Australia, Canada, and emerging markets. For insulin glargine in the diabetes indication, the company has submitted an application to regulatory bodies in the European Union, Canada, and emerging markets.
Article continues below advertisement
Mylan has already completed eight submissions in developed markets and aims to further target six additional developed market submissions in 2017. While the company has already completed more than 30 emerging markets submissions in 2017, Mylan is targeting an additional 70 emerging markets submissions in 2017.
If the company manages to complete a major portion of its targeted submissions in 2017, it may have a favorable impact on Mylan's share prices as well as those of the iShares Russell 1000 Value (IWD). Mylan makes up about 0.14% of IWD's total portfolio holdings.
Partnerships
In addition to trastuzumab, Mylan has entered into a partnership with Biocon to develop a biosimilar version of Roche Holdings' Avastin (bevacizumab) for the oncology indication. In 2Q17, the Drug Controller General of India approved this oncology biosimilar as a treatment option for metastatic colorectal cancer and lung cancer.
On January 8, 2016, Mylan entered into a collaboration with Momenta Pharmaceuticals to develop six biosimilar drugs, including M710, a biosimilar for Orencia. Mylan expects to report topline data from its Phase 1 trial evaluating a biosimilar version of Bristol-Myers Squibb's (BMY) Orencia. The company plans to initiate clinical studies for M710 by 2018.
In June 2017, Mylan and Biocon presented positive data from the INSTRIDE studies at the American Diabetes Association, which compared the efficacy, immunogenicity, and safety of the company's insulin glargine over Sanofi's (SNY) Lantus injection for treating Type 1 and Type 2 diabetes.
In the next part of this series, we'll look at Mylan's revefenacin research program.