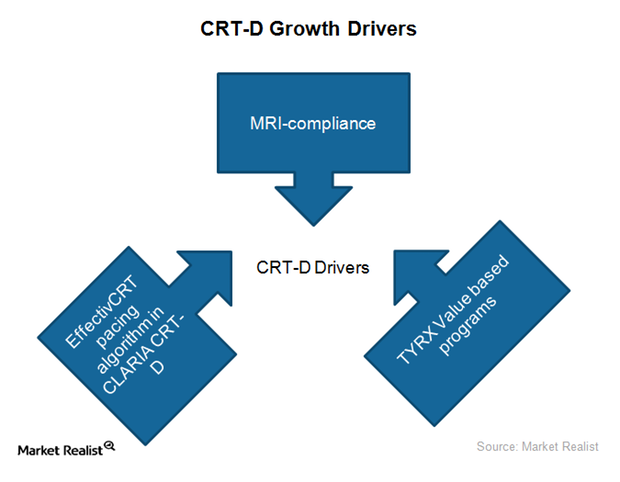 Medtronic Aims to Boost Demand for Heart Failure Implantables in 2018
By Margaret Patrick

Oct. 2 2017, Updated 10:37 a.m. ET
Heart failure implantables
In 1Q18, Medtronic (MDT) witnessed a low-double-digit revenue decline in its cardiac resynchronization therapy defibrillators (or CRT-D) segment. This involved single-digit decline in sales of initial CRT-D implants and then double-digit revenue decline for replacement implants. Stronger performance in the previous year due to CRT-D product recall for competitors as well as extended battery life of the Medtronic's CRT-D has played a major role in reducing the company's revenue performance for this product portfolio. Further, destocking of inventory by hospitals has also contributed to the company's weak CRT-D sales in 1Q18.
Article continues below advertisement
A CRT-D device is a cardiac resynchronization therapy pacemaker (or CRT-P) device with an inbuilt implantable cardioverter defibrillator (or ICD). Besides managing slow heartbeats and helping the heart to pump blood efficiently, a CRT-D device also helps in reducing dangerously fast heartbeats. This is done by delivering a shock to the heart, also called defibrillation. CRT-D is thus used in heart failure patients to prevent death due to cardiac arrest.
Growth drivers
Being magnetic resonance imaging (or MRI) safe, Medtronic's Compia and Amplia CRT-D devices have managed to rapidly capture market share in Japan. If the company manages to boost demand for these devices in the US in fiscal 2018, it may have a positive impact on the company's stock as well as the Health Care Select Sector SPDR Fund (XLV). Medtronic makes up about 3.5% of XLV's total portfolio holdings.
Medtronic's TYRX value-based program has played a pivotal role in boosting demand for ICD and CRT-D devices from tachycardia patients. Further, in November 2016, the US Food and Drug Administration approved Claria Quad CRT-D system, which is 1.5Tesla-safe and 3Tesla MRI-safe. This device uses Medtronic's EffectivCRT pacing algorithm, which adjusts therapy as per the outcome of the stimulation given to the left ventricle. This algorithm is also capable of improving responses in heart failure patients with atrial fibrillation. The EffectivCRT algorithm is complementary to the AdaptivCRT algorithm, which is also used in the Claria CRT-D device.
A robust CRT-D portfolio has enabled Medtronic to compete effectively with other cardiovascular device players such as Abbott Laboratories (ABT), Boston Scientific (BSX), and St. Jude Medical (STJ).