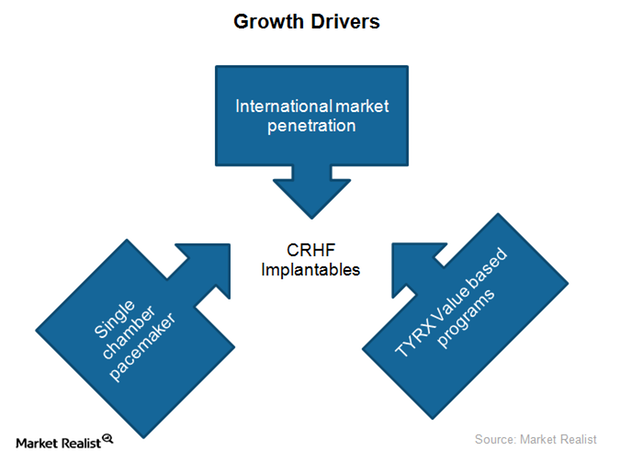 Medtronic Aims to Recapture Share in Pacemaker Market in 2018
By Margaret Patrick

Oct. 2 2017, Updated 9:07 a.m. ET
Pacemaker market in 1Q18
In 1Q18, Medtronic (MDT) reported a low-single-digit drop in global revenues earned from pacemakers sold to bradycardia patients. While the demand for these products was robust in international markets, it was offset by a declining uptake in the US.
With 3 million people living with pacemakers globally and around 600,000 pacemakers implanted in bradycardia patients, the pacemaker segment is a significant growth opportunity for Medtronic. Bradycardia patients have an abnormally low heartbeat resulting from heart complications such as genetic heart defects, aging, scar tissue due to heart attack, illness and subsequent medications, heart block, dysfunctional natural heart pacemaker, sick sinus syndrome, and irregular or blocked electric impulses from the upper heart chamber to lower heart chamber. If Medtronic manages to leverage this growth opportunity in 2018, it could boost the company's stock as well as the iShares Core S&P 500 ETF (IVV). Medtronic makes up about 0.51% of IVV's total portfolio holdings.
Article continues below advertisement
Growth drivers
The company reported low-to-mid-single digit growth in sales volumes for its pacemaker segment. However, the revenue growth percentage for its cardiac resynchronization therapy pacemakers (or CRT-P) was in the low 30's in 1Q18. In addition to managing arrhythmia like a normal pacemaker, CRT-P devices also help the heart pump more efficiently by sending electrical impulses to left and right heart ventricles.
High demand for CRT-P is mainly driven by robust uptake of Medtronic's quadripolar CRT-P devices. However, increasing competition from peers such as Abbott Laboratories (ABT), Boston Scientific (BSX), and St. Jude Medical (STJ) in the MRI-safe implantables segment has affected Medtronic's market share in the CRT-P segment. Beyond increasing demand in international markets for Micra pacemakers, Medtronic is also witnessing rising uptake for its temporary single-chamber pacemakers as well as higher prices for its micro product.
In 1Q18, the company reported that around 325 accounts purchased the company's cardiac rhythm and heart failure disease management (or CRHF) implantable devices under the TYRX value-based program, which is almost double the figure in the previous quarter. This program, which is initiated to control surgical site infections, accounted for 10% of Medtronic's total CRHF implantables revenues in 1Q18. To know more about the TYRX value-based program, please read Medtronic's Agreement Will Expand the Use of Its Tyrx Envelopes.
In the next article, we'll discuss growth prospects for Medtronic's other CRHF implantables in fiscal 2018.