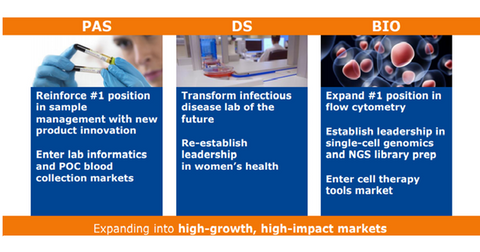 Latest Product Launch Expands BD's Genomics Portfolio
By Sarah Collins

Updated
Overview
Becton, Dickinson and Company (BDX), or BD, accelerated its strategy to establish itself as the leader in single cell genomics with its recent launch of BD Rhapsody, a single cell analysis platform, on September 12, 2017. The platform will be used for gene expression profiling. It has the ability to "detect rare molecules responsible for biological diversity that are often missed with whole transcriptome profiling."
Article continues below advertisement
The platform was developed using UMI (unique molecular index) technology, which is a patent technology of BD, acquired through the acquisition of Cellular Research in 2015. BD Rhapsody is a complete system for single cell analysis that consists of instruments, reagents, and software. The platform was installed under limited commercial release earlier with the name of Resolve.
Investors can gain diversified exposure to BD by investing in the iShares Russell 1000 Growth ETF (IWF). IWF holds approximately 0.37% of its total holdings in BD.
Features and capabilities
The company is planning to expand BD Rhapsody rapidly over the next one year and includes protein analysis in addition to RNA analysis. The company will leverage its extensive antibody portfolio with BD AbSeq assays. The device will be offered with application-specific targeted panels as well as custom targeted panels.
According to Stephen Gunstream, vice president of genomics at BD, "Early access users have been enthusiastic about our targeted assay solution and its superior performance compared to whole transcriptome profiling. These same users have also experienced considerable sequencing cost savings from this technology."
The device is expected to be commercially available in 1H18. BD has an opportunity to gain market share in this market from other big players like Thermo Fisher Scientific (TMO), Boston Scientific (BSX), and Illumina (ILMN).