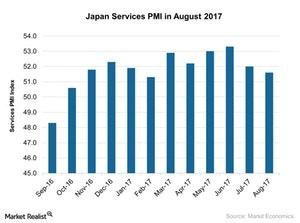 How Japan's Service Activity Trended in August 2017
Japan's services PMI in August
According to the latest report by Markit Economics, Japan (EWJ) (DXJ) services PMI (purchasing managers' index) stood at 51.6 in August 2017, compared with 52 in July 2017, missing the market expectation of 52.
August marks the 11th straight month of expansion in Japan's service activity. Levels above 50.0 indicate an expansion in activity, while levels below 50.0 indicate contraction. Japan's services PMI in August was its lowest reading since February 2017.
Article continues below advertisement
Japan's August service PMI indicates that production output, new order growth, and export orders all rose at a slower pace for the month. However, employment growth rose for the eighth consecutive month in August. The overall domestic demand and overseas (VT) (ACWI) (VTI) demand in the service sector slowed.
Japan's overall business sentiment remained strong in August 2017. The recovery in global demand is helping Japan's economy. However, the geopolitical risk due to North Korea is impacting its currency. The fluctuation in the Japanese yen (FXY) could impact the country's exports.
Performance of various ETFs